Lowell Offers Full Line of Tower Wrenches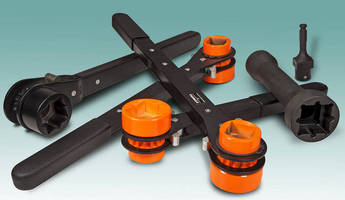 WEST BOYLSTON, MA – Lowell Corporation now offers a full line of ratchet wrenches and accessories for tightening nuts on transmission towers.



There are six wrenches and an impact socket in the line. Each of the rugged wrenches can handle either two or three of the most common transmission tower nut sizes and with a bolt-thru head can handle nuts on any threaded length. By combining several tools in one, each wrench offers not only greater flexibility but also greater convenience. All tools are covered by a one-year guarantee.



There are three models in the Lowell 100T Series. Each has a permanent socket with three sizes that fit 3/4", 7/8" and 1" hardware as well as 1-1/2" hex nuts. The 103T has a 12" handle and weighs 2-3/4 lbs., the 104T has a 15" handle and weighs 3 lbs., and the 105T has an 18" handle and weighs 3-1/4 lbs. The long handles and a torque capability of 300 lb-ft. bring plenty of turning power to any job. All have stamped and riveted metal handles with vinyl comfort grips.



There are two models in the 50T Series that feature double square socket openings to fit 7/8" and 1" hardware and 1-1/2" hex nuts.  Handle lengths and weights are 15" for the Model #52 (4-1/8 lbs.) and 20" for the Model #53 (5 lbs.)  Also available is a Model #152 with a 15-3/4" handle (3-3/4 lbs.). These three handles can also accommodate Lowell's single size bolt-thru sockets (5/8" to 1-5/8" square and 7/8" to 1-5/8" hex).



Designed for transmission line work, the Impact Socket can be used with any impact wrench or rattle gun to install or tighten 3/4", 7/8", or 1" nuts. Overall length is 10-3/8" and weight is 3 lbs. A 7/16" quick change adapter is included for use with 1/2" impact wrenches.



For more information about Lowell Tower Wrenches, other lineman wrenches, or for a full-line catalog, call 800/456-9355 or 508/835-2900, visit the company's web site: www.lowellcorp.com, or email customerservice@lowellcorp.com.

More from Portable Tools