Low Voltage Motor Control offers centralized intelligence.
Press Release Summary: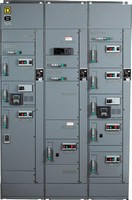 Addressing power and process control needs, Square D® Model 6 Low Voltage Motor Control Center includes Square D Masterpact® circuit breakers and Powerpact® electronic motor circuit protector to guard against arc flash incidents. Other components, such as Telemecanique® Altivar® AC drives and Motor Logic® Plus/II solid state overload relays, can communicate directly with network protocols such as Modbus®, PROFIBUS, and DeviceNet for real-time monitoring of critical data.
---
Original Press Release:

New Square D Model 6 Low Voltage Motor Control Center



A Safer, More Intelligent Choice for Industrial Facilities

PALATINE, Ill. - March 29, 2007 - The new Square D® Model 6 Low Voltage Motor Control Center from Schneider Electric offers increased intelligence, centralized control, and maximized safety for industrial facilities, manufacturing process equipment and workers. Innovative components such as Square D Masterpact® circuit breakers and the new Square D Powerpact® electronic Motor Circuit Protector (MCP) provide interrupting and short circuit current ratings that are superior to fuses and provide better protection against arc flash incidents. These innovations result in higher reliability and increased productivity.

The Square D Model 6 Motor Control Center is perfect for pumps, blowers, fans, compressors, conveyors and variable frequency drive applications. Key markets include industrial facilities in the food/beverage and pharmaceutical industries, water/wastewater and oil/gas.

"The Model 6 Motor Control Center is designed and manufactured to address the most challenging power and process control needs," said David Ray, Low Voltage Motor Control Center Marketing Manager. "For example, the Square D Powerpact electronic MCP delivers more reliable start-ups and virtually eliminates nuisance tripping. Its unique design ensures that motor circuit protection is optimized for the in-rush characteristics of the motor and remains fully compliant with National Electrical Code® requirements. Best of all, a facility owner can better protect workers and also accrue substantial savings by not having to purchase and store fuses."

Increased intelligence is a critical benefit of the Model 6 Motor Control Center. Popular network protocols such as Modbus®, PROFIBUS and DeviceNet communicate directly with Model 6 Motor Control Center components, including Telemecanique® brand Altivar® AC drives, as well as Motor Logic® Plus and Motor Logic Plus II solid state overload relays.

"Networking allows for easy monitoring of critical data of each motor or load connected to the Model 6 Motor Control Center, enabling process control at all times," Ray said. "With this information, facility personnel can respond to potential problems proactively. Real-time access to information and records of recent faults allows for simplified diagnostics and increased uptime."

Other key features of the Model 6 Motor Control Center include:

An industry-exclusive cast metal handle that clearly indicates circuit breaker disconnect status, on/off and tripped.
A strong, durable structure that resists damage, simplifies installation and is seismically certified to the most current building codes.
Sliding horizontal bus barriers provide access to the bus compartment, making preventive maintenance quicker and easier. Using a non-conductive material enhances operator safety when performing predictive maintenance.
Captive horizontal splice bars that prevent bar loss and make connecting sections quick and easy.
A twin-handle cam mechanism that works with the unit's hook-and-hang feature to provide proper stab alignment and allows for easy installation and removal of units.

For more information about the Square D Model 6 Low Voltage Motor Control Center, call
1-888-SQUARED or visit us.squared.com.

Headquartered in Palatine, Ill., the North American Operating Division of Schneider Electric had sales of $3.7 billion (U.S.) in 2006. The North American Operating Division is one of four operating divisions of Schneider Electric, headquartered in Paris, France, and markets the Square D, Telemecanique and Merlin Gerin brand products to customers in the United States, Canada and Mexico. In the United States, Schneider Electric is best known by its flagship Square D brand, with Telemecanique becoming increasingly known in the industrial control and automation markets and supported by many Square D distributors. For more than 100 years, Square D has been a market-leading brand of electrical distribution and industrial control products, systems and services. Schneider Electric is a global electrical industry leader with 2006 sales of approximately $17.2 billion (U.S.). Visit Schneider Electric on the Internet at:

Corporate - www.us.schneider-electric.com
Telemecanique Products - www.us.telemecanique.com
Square D Products - us.squared.com
Merlin Gerin Products - us.merlingerin.com

Please send all reader inquiries to:
Square D Literature Fulfillment Center
W6545 Quality Drive
Greenville, WI 54942
Attention: Chris Lautschlager
800-392-8781
or e-mail to: SquareD@banta.com

Schneider Electric
North American Operating Division
1415 South Roselle Road
Palatine, IL
60067-7399
Tel. (1) 847-397-2600
Fax (1) 847-925-7271
http://www.us.schneider-electric.com

More from Optics & Photonics