Low-Profile Vacuum Cups withstand intermittent exposure to 500°F.
Press Release Summary: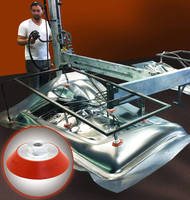 Constructed with red Silicone SI material, VC Series is designed for use on manually operated or automated vacuum lifters and provides secure attachment for high-temperature applications. Center suspension and vacuum port style optimize security and heat resistance, while vacuum seal on inside and outside edges ensures secure attachment. With flat, cleated bottom suited for safely lifting horizontal and vertical loads, products come in 2.5, 3.5, and 4.5 in. ODs with extended, low-angle lip.
---
Original Press Release:

New Line of High Heat Resistant VC Series Vacuum Cups from ANVER Corporation



Low-Profile Vacuum Cups Made From Silicone SI Provides Secure Attachment for High Temperature Applications



HUDSON, MA--ANVER Corporation, a leader in vacuum handling technology in North America, adds a new line of VC Series Vacuum Cups with center suspension and vacuum port style that offers optimized security and heat resistance.



The VC Series Vacuum Cups are designed for use on manually operated vacuum lifters as well as on automated vacuum lifters where vacuum security is key. The vacuum seal on both the inside and outside edges of the vacuum cup provides vacuum for a secure attachment. The long low-angle lip requires little pressure to make initial contact with a load. This flexibility also compensates for inaccuracies in vacuum cup height. In addition, the VC Series Vacuum Cups have a flat, cleated bottom, which makes them an excellent choice for safely lifting both horizontal and vertical loads.



The rugged, long-wearing VC Series Vacuum Cups are constructed with a proprietary red Silicone SI material that can withstand intermittent temperatures up to 500°F (260°C). These vacuum cups are well suited for heavy, high-duty use found in the automotive industry and in metal press feeding operations. The VC Series Vacuum Cups are offered in three diameter (O.D.) sizes: 2.5" (63.5mm), 3.5" (89mm), and 4.5" (114mm). Suspension assemblies are available in a variety of sizes with either NPT tapered or G/BSPP/NPS straight threads.



The universal design and secure gripping power of these vacuum cups work well with the following materials and surfaces: metal, glass, and other flat, rigid, or brittle loads; slightly textured surfaces, such as fiberglass panels and plastic materials; wavy or contoured surfaces; and porous materials.



Also available in blue Nitrile for general industrial use, the VC Series Vacuum Cups are priced according to configuration and quantity.



About ANVER Corp

ANVER, founded in 1968, is a North American leader in vacuum handling technology. ANVER is a full-service manufacturer offering a complete range of vacuum handling products from miniature vacuum suction cups and vacuum pumps to complete Mill-Duty Vacuum Lifting Systems.



For more information, please contact:

Contact Information

ANVER Corporation

36 Parmenter Rd.

Hudson, MA 01749

Jay Wigmore

Sales Consultant

Phone: +1-978-568-0221

E-mail: info@anver.com

Website: www.anver.com

More from Services