Low-Profile Conveyors from QC Industries Are Ideal for Low-Headroom Applications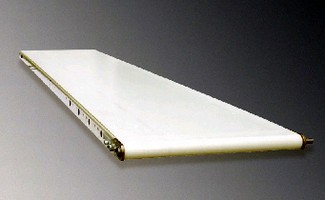 Cincinnati, OH - The 125 Series line of conveyors from QC Industries feature a very low profile (1.89"), allowing these unique conveyors to be used in tight quarters where conventional conveyors will not fit. Belt widths of 2" to 24" are available, in lengths from 4 feet to 12 feet, with load carrying capacity of up to 450 pounds. A unique snap-in sealed tail assembly allows belts to be changed in less than 5 minutes (regardless of belt length or width) using standard hand tools and without re-tracking the belt. Permanent belt tensioning ensures a long service life for belts and bearings while moving the heaviest loads in low-profile conveyors, with no tension adjustment necessary. Lubrication of drive elements is achieved with zero downtime. These unique features make 125 Series low-profile conveyors ideal for use in manufacturing plants as well as distribution centers, packaging lines, metal stamping and precision manufacturing environments, and more.

Conveyor frames are laser cut from 10-gauge steel which is then powder coated. Application specific belting is available in over 50 styles, including a variety of cleated styles. Corrosion resistant and magnetic conveyors are also available.

A wide variety of accessories, including sides, guides, mounts, stands, drive packages and controls allow the 125 Series conveyors to be adapted to virtually any application. Automation accessories available include transfer plates, diverters, nose bars, adjustable stops, and turning wheels. For installations where it is necessary to show that conveyor belts are running, motion detection is available.

An industry leading manufacturer of low-profile conveyors, QC Industries products are used in a wide array of industries, including packaging, stamping, medical product & device manufacturing, assembly, material handling, manufacturing, clean rooms, and more.

Privately held QC Industries is based in a state-of-the-art 55,000 square foot facility in Cincinnati, Ohio which houses their lean manufacturing, engineering, customer service, sales, and administrative functions. They have been supplying low-profile conveyors since 1981, making this their 25th anniversary. For more information on QC Industries products or services, visit them online at www.qcindustries.com. You may also reach them via e-mail at sales@qcindustries.com, via phone at (513) 753-6000, or through the mail at QC Industries LLC, 4057 Clough Woods Drive, Cincinnati, OH 45103.

More from Machinery & Machining Tools