Low Profile Box PC from MEN Micro Incorporates Multiple I/O and Antenna Inputs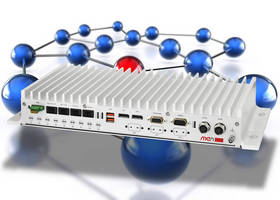 New BL50W implements wireless functions from WiFi to LTE



BLUE BELL, Pa. – MEN Micro Inc., a world-renowned provider of embedded computing and I/O solutions for mission-critical industrial, mobile and harsh environment applications, has further expanded its line of maintenance-free box PCs with the BL50W for wireless applications. 



The compact, rugged structure of the new unit ensures reliable operation in a wide range of mobile environments including trains, buses, construction and agricultural machines.



Equipped with four PCI Express Mini Card slots that control up to eight SIM cards and a GPS interface, the BL50W can implement virtually any wireless function including WLAN, UMTS, GPS, GSM, HSDPA, EDGE and LTE. A multitude of user-specific I/O complements the nine antenna slots available on the conduction-cooled unit to accommodate specific functionality.



The new box PC can operate as a complete content server or hot-spot server eliminating problems associated with frequent location or tariff-related provider changes. It can also be used as a diagnostic interface or for fleet management as well as to implement vehicle-to-control center communications or for internet access in a train or airplane.



The BL50W is based on the T48N AMD Embedded G-Series APU (accelerated processing unit) with a core frequency of 1.4 GHz. The unit features excellent graphics performance via two DisplayPorts with full HD resolution - a useful attribute for infotainment applications or human-machine-interfaces. If different graphics performance or power consumption is required, any Embedded G-Series APU can be selected.



In addition to two Gigabit Ethernet channels available on robust M12 connectors, the unit includes two USB 2.0 ports and five slots for serial I/O or CAN bus as well as a number of universal inputs and relay outputs. 2 GB of DDR3 SDRAM, an SD card and an mSATA slot provide the necessary mass storage capacity.



MEN Micro's flexible box PC concept separates the CPU inside the BL50W from the interface board for easy, cost-effective adaption of the I/O according to the user needs.



The BL50W is designed for fanless operation in the extended operating temperature range of -40°C to +85°C, complies with EN 50155 and is prepared for e1 certification.



Pricing for the BL50W is $2,048 USD.  Delivery is six to eight weeks ARO.



For additional information, visit http://www.menmicro.com/09BL50W.html or contact Stephen Cunha, Phone: 215-542-9575; E-mail: Stephen.Cunha@menmicro.com.



Read our news: http://feeds.feedburner.com/MenMicro

Follow us: http://twitter.com/MENMicro 

Become a fan: http://www.facebook.com/MENMicro

Watch the latest videos: http://www.youtube.com/user/MENGermany

Learn our markets: http://www.slideshare.net/MENmicro





UPCOMING TRADESHOWS: RTECC: Minneapolis, MN; September 10, 2013 and

Chicago, IL; September 12, 2013



READER SERVICE INQUIRIES:

Please forward all reader service inquiries to:

Stephen Cunha

MEN Micro Inc.

860 Penllyn Blue Bell Pike

Blue Bell, PA 19422

E-mail: Stephen.Cunha@menmicro.com



About MEN Micro Inc.

Since its founding, MEN Micro has focused on innovation, reliability and flexibility to develop standard and custom computing solutions that employ the highest technology levels. The company's computing solutions are used in harsh mission- and safety-critical environments found in the transportation (rail, road, air, sea) and industrial (automation, power & energy, medical, mining) markets.



With more than 250 employees worldwide, MEN Micro provides a robust offering of highly reliable embedded COTS boards, rugged COMs, scalable box PCs, safe computers and supporting devices widely used in extreme environmental conditions.



In addition to its full customization support, the company's core competencies include x86 and RISC processor architectures, development rules for safe applications, analog I/O design, FPGA technology and Windows, Linux and real-time operating systems as well as RAMS and obsolescence management.



The company is certified to ISO 9001, ISO 14001 (environment), EN 9100 (aerospace), IRIS (railway) and e1 (road traffic) quality management systems and is a member of several industry associations, including VITA and PICMG.



More from Controls & Controllers