Low Pressure Return Line Fittings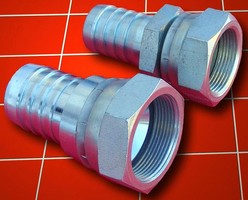 PIRTEK USA is pleased to announce the addition of low pressure return line fittings to its range.

PIRTEK is mainly known for its quick response fleet of service trucks which are capable of replacing high pressure and hydraulic hoses on site.

This new line of low pressure fittings gives customers the opportunity to call out a service truck or visit one of the PIRTEK Hose Shops and get a replacement part or a return line hose assembly made on the spot.

The most popular low pressure feed and return line fittings stocked by PIRTEK will be the JIC female and Code 61 flange fittings. These fittings will be available in both straight and 90 degree configurations and in sizes from 11/4 through to 2 inch

Applications for these hoses and fittings include return lines back to the reservoir or feed lines to a hydraulic pump on all kinds of static or mobile applications. These fittings can also be used in conjunction with the SAE 100R4 hose and attached using a heavy duty bolt type clamp.

To learn more about the services and products provided by PIRTEK then please visit our website at www.eta1houronsite.com.

More from Computer Hardware & Peripherals