Low-Power PMICs enable efficient energy harvesting.
Press Release Summary: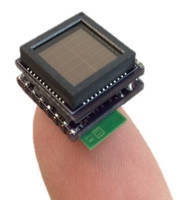 With startup power of 1.2 µW and consumption current as low as 250 nA, single-chip Energy Harvesting PMICs enable tiny, solar-powered wireless sensors for IoT applications. Fully integrated products can be used with solar cells as small as 1 cm² and are suited for battery-less Wireless Sensor Nodes (WSNs) that monitor physical and environmental conditions. Functionality enables efficient harvesting from sunlight, vibrations, and thermal variations.
---
Original Press Release:

Cypress Introduces the World's Lowest-Power Energy Harvesting Power Management ICs for Battery-Free Wireless Sensor Nodes



PMICs Enable Breakthrough Form Factor of 1 cm2 for Solar-Powered WSN IoT Applications; Extend Cypress's Award-Winning Portfolio of Energy Harvesting Devices



SAN JOSE, Calif. -- Cypress Semiconductor Corp. (NASDAQ: CY) today announced a new family of Energy Harvesting Power Management Integrated Circuits (PMICs) that enable tiny, solar-powered wireless sensors for Internet of Things (IoT) applications. The new devices are the world's lowest-power, single-chip Energy Harvesting PMICs, and can be used with solar cells as small as 1 cm(2). The new PMIC devices are fully integrated, making them ideal for batteryless Wireless Sensor Nodes (WSNs) that monitor physical and environmental conditions for smart homes, commercial buildings, factories, infrastructure and agriculture.  Cypress offers a complete, battery-free Energy Harvesting solution that pairs the S6AE101A PMIC, the first device in the new family, with the EZ-BLE(TM) PRoC(TM) module for Bluetooth(®) Low Energy connectivity, along with supporting software, in a $49 kit.



The WSN IoT device market is expected to grow to more than 5 billion units by 2020, putting a premium on battery-free implementations to reduce cost and maintenance problems. The placement of a WSN may limit its size and the amount of light available, thereby limiting the size and power output of the solar module and the startup power available for the Energy Harvesting PMIC. The new Cypress Energy Harvesting PMIC devices address these challenges with startup power of 1.2uW--4x lower than the nearest competitor--and consumption current as low as 250nA, maximizing the power available for the sensing, processing and communications functions of a target application. The fully-certified, small-form-factor EZ-BLE PRoC module, which is based on Cypress's PRoC BLE Programmable Radio-on-Chip solution, works with the PMIC devices to contribute to the low power and ease-of-use of an energy harvesting system solution.



"The most compelling new Wireless Sensor Nodes that will drive IoT growth are self-powered, can be deployed anywhere for more than 10 years, and require minimal deployment and maintenance costs," said Kiyoe Nagaya, vice president of the Analog Business Unit at Cypress. "Using our new Energy Harvesting PMIC and EZ-BLE PRoC Bluetooth Smart module, Cypress offers a complete solution that enables developers to create solar-powered WSNs for batteryless IoT devices."



About Cypress's Award-winning Energy Harvesting PMICs

Cypress PMICs enable efficient harvesting from sunlight, vibrations and thermal variations, and offer dual inputs from two sources simultaneously, making them a reliable, flexible option to fully power or extend the battery life in IoT applications.



The Cypress energy harvesting PMICs have received several industry awards, including:

--  The 2015 Annual Creativity in Electronics (ACE) Award for Energy Technology , presented by EDN and EE Times.

--  The Product of the Year Award for the MB39C811 PMIC from the Environmental Leader Product & Project Awards in March 2015. The judges recognized several key qualities of the energy harvesting technology that is now a part of Cypress's portfolio following the completion of its merger with Spansion.

--  The Emerging Technology Award, Second Place in M2M, IoT, Sensors, RFID & NFC for the ultra low power buck PMIC for solar and vibrations energy harvesting, MB39C811 from CTIA in 2014.

--  The Green IT Award program for energy harvesting solutions from the Ministry of Economy, Trade and Industry of Japan in 2013.



Availability and Design Tools

The Cypress S6AE101A Energy Harvesting PMIC is sampling now, with production expected in the fourth quarter of 2015. Cypress offers the $49 Solar-Powered IoT Device Kit that contains a baseboard with a solar module and a Bluetooth(®) Low Energy-USB bridge. Cypress PMICs are supported by the comprehensive Easy DesignSim(TM), a free, web-based simulation tool for Cypress's PMIC solutions used to validate Energy Harvesting System (EHS) designs, including the bill-of-materials (BOM), schematic and the power consumed ( W) by the sensing, processing and communications functions of a target application.



About EZ-BLE PRoC

The EZ-BLE PRoC module provides an end-to-end Bluetooth Low Energy solution that includes Bluetooth 4.1 qualification and is compliant to wireless regulatory standards in the U.S., Canada, Japan, Korea and Europe, greatly simplifying design and cutting time to market. The module integrates the programmability and ARM(®) Cortex(®)-M0 core of PRoC BLE, two crystals, an on-board chip antenna, metal shield and passive components, all in a compact 10-mm x 10-mm x 1.8-mm form factor. Customers designing with the module can apply to add the Bluetooth logo on their products by referring to Qualification Design Identification (QDID) 67366, assigned to Cypress by the Bluetooth SIG. Cypress serves as a single supplier for silicon, software, firmware and module hardware, streamlining the customer support required to develop remote controls, health and fitness equipment, home appliances, toys and other Bluetooth Smart applications.



Follow Cypress Online

--  Read our Core & Code technical magazine and blog.

--  Join the Cypress Developer Community.

--  Follow @CypressSemi on Twitter.

--  Visit us on Facebook and LinkedIn.

--  Watch Cypress videos on our Video Library or YouTube.



About Cypress

Cypress (NASDAQ: CY) delivers high-performance, high-quality solutions at the heart of today's most advanced embedded systems, from automotive, industrial and networking platforms to highly interactive consumer and mobile devices. With a broad, differentiated product portfolio that includes NOR flash memories, F-RAM(TM) and SRAM, Traveo microcontrollers, the industry's only PSoC(®) programmable system-on-chip solutions, analog and PMIC Power Management ICs, CapSense(®) capacitive touch-sensing controllers, and Wireless BLE Bluetooth(®) Low-Energy and USB connectivity solutions, Cypress is committed to providing its customers worldwide with consistent innovation, best-in-class support and exceptional system value. To learn more, go to www.cypress.com.



Cypress, the Cypress logo, Spansion, the Spansion logo, and combinations thereof, PSoC and CapSense are registered trademarks and Traveo, F-RAM and Easy DesignSim are trademarks of Cypress Semiconductor Corp. All other trademarks are property of their owners.



CONTACT: Samer Bahou, Cypress PR, (408) 232-4552, samer.bahou@cypress.com

More from Printing & Duplicating Equipment