Low Pin Count Stereo ADC operates from single 3.3 V supply.
Press Release Summary: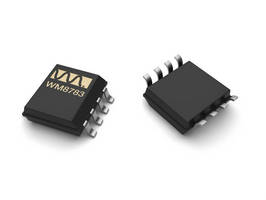 Requiring only 2 decoupling capacitors, low power WM8783 uses multi-bit Sigma Delta ADC architecture to offer high quality line input audio in recordable media applications, including LCD TVs, set top boxes, and DVD recorders. It achieves 95 dB SNR, -83 dB THD, and supports sample rates from 8-96 kHz. Offered in SOIC-8 package, ADC accepts analog inputs up to 1 Vrms and provides integrated high pass filter to remove DC offset and suppress low frequency noise.
---
Original Press Release:

Wolfson Launches Industry's Lowest Pin Count Consumer Stereo ADC



Edinburgh, UK - Wolfson Microelectronics plc (LSE: WLF.L), today announces a new addition to its Pure Sound audio portfolio with the introduction of the WM8783, an ultra low pin count, low power stereo ADC designed to offer high quality line input audio performance in recordable media applications, including LCD TVs, set top boxes and DVD recorders.

The WM8783 is an easily integrated, simple 'plug and play' device requiring a single 3.3 V supply. The WM8783 has the lowest ADC pin count on the market today and requires only two decoupling capacitors. The low power WM8783 is also well suited for battery powered applications, providing system designers with an easy-to-use, high quality line-in conversion path, resulting in significant savings on design time, PCB space and the audio subsystem bill of materials.

The WM8783 uses a high performance multi-bit Sigma Delta ADC architecture to provide superior audio performance achieving 95 dB SNR, -83 dB THD and supporting sample rates from 8 kHz to 96 kHz. The WM8783 also simplifies system design through the use of on-chip regulators to enable operation from a single 3.3V supply. The WM8783 accepts analogue inputs up to 1Vrms and provides an integrated high pass filter to remove DC offset and suppress low frequency noise.

Barry Paterson, Wolfson's Director of Engineering for High Performance Audio, said, "The WM8783 offer customers a simple cost effective solution without any compromise on performance. The WM8783 is easy to use and requires minimal external components to realize an effective solution."

Price and Availability

The WM8783 is available for sampling now in a SOIC-8 package. For 1k quantities, the WM8783 is priced at $0.48. WM8783 customer evaluation boards are available to aid device evaluation and development.

About Wolfson Microelectronics

Wolfson Microelectronics plc is a global leader in the supply of high performance, mixed-signal semiconductor solutions to the consumer electronics market. In the home, in the office and on the move, Wolfson's innovative technology can be found at the heart of the world's leading digital consumer goods, including premier hi-fi equipment, mobile phones, mp3 players, flat panel TVs, digital still cameras and portable navigation devices.

Wolfson is committed to the design and supply of ground-breaking products, including ultra low power and high performance audio devices, silicon microphones, power management IC's and noise cancellation solutions, all of which come together in the Wolfson AudioPlus(TM) portfolio. This rich portfolio allows Wolfson's global customers to better differentiate their digital consumer products and create whole new end-user experiences.

Wolfson has blended together many of its successful audio components to develop an architecture-defining family of mixed-signal hub solutions. These feature-rich hubs deliver world-class audio performance, significantly enhance battery life, provide longer music playback time, and offer more end-user features at a lower total cost - all of this whilst enabling designers to optimally manage the complex world of multiple concurrent use cases.

The company's headquarters is located in Edinburgh, UK. Wolfson's customers are located worldwide, and so is Wolfson, with design centers, sales offices, applications teams and engineering expertise across Europe, the US and Asia. Wolfson Microelectronics plc is listed on the London stock exchange (LSE: WLF.L).

For more information about Wolfson Microelectronics, please visit: www.wolfsonmicro.com


More from Packaging Products & Equipment