Lossless Video Splitting Software offers frame-accurate editing.
Press Release Summary: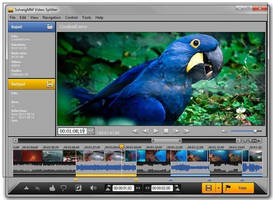 Video Splitter v.4 keeps 99% of video data intact by transcoding few frames in beginning and end of video. With AVC codec, program allows frame-precise editing; precision is limited to key frames for other codecs. Solution supports FLV format, and frame-precise editing is also applicable to AVI video files. Other features include smart video slicing, ability to save MP4 metadata, and capacity to save project settings as presets for later use.
---
Original Press Release:

Solveig Multimedia Releases a New Version of Video Splitter that Comes with AVI and FLV Frame-Accurate Editing Feature



Solveig Multimedia has finished the fourth version of its lossless video editor. Video Splitter 4 features frame-precise editing of AVI files and smart splitting of videos, supports FLV videos and presents a number of new functions, improvements and changes.



TOMSK, Russia — Solveig Multimedia, a leading developer of tools for multimedia editing, today announced the SolveigMM Video Splitter 4, for immediate release. The earlier versions of the Video Splitter have already gained steady popularity among video editing professionals and home users. Indeed, this tool for lossless video editing that blends impressive functionality with high quality and fast processing speed. The advanced technology developed by SolveigMM for the Video Splitter 4 allows the program to keep 99 percent of video data intact by transcoding merely few frames in the beginning and in the end of the video.



SolveigMM Video Splitter 4 is a new major update of this video editing framework introducing several important novelties. First, the new version supports the FLV format support. With the AVC codec, the program allows frame-precise editing. For other codecs, the precision is limited to key frames. Frame-precise editing is also featured for AVI video files.



Version 4 also features Smart video slicing, another new option. It allows a user to cut a file into parts of specified duration or size, or slice a video to the given number of parts. The program now saves MP4 metadata as well.



Among minor updates added to SolveigMM Video Splitter 4 are the ability to save project settings presets for later use, the ability to clear the recent file history and prevent edited files from being added to the history, options to specify an output folder and to adjust playback settings, and color preferences of the interface.



Pricing and availability



Video Splitter is available for Windows XP/2000/2003/Vista/7/8 and requires DirectX 8.0 or higher as well as appropriate video codecs and runtimes installed. The price for a SolveigMM Video Splitter Home Edition is $49.95, while the Business Edition costs $200. The company also offers portable versions of the software for $79.95 and $200 respectively. Unlike the Home Edition, the Business Edition includes batch processing and command line support.



About Solveig Multimedia

Solveig Multimedia develops tools for the most complex video editing tasks in such areas as digital video broadcasting, surveillance, video content censoring, surgical imaging and others. The company operates on the market since 2003 and its products and SDK are well known both among home users and video editing professionals.



Links

Company website: http://www.solveigmm.com/

Product page: http://www.solveigmm.com/en/products/video-splitter/



Download links:

Video Splitter Home Edition

http://www.solveigmm.com/download/SolveigMM_Video_Splitter_Home_Edition.exe



Video Splitter Business Edition

http://www.solveigmm.com/download/SolveigMM_Video_Splitter_Business_Edition.exe



Contacts

Name: Olga Krovyakova

Company: Solveig Multimedia

Phone: 7 (3822) 701-455 ext. 2049

E-Mail: info@solveigmm.com

More from Packaging Products & Equipment