Loss-In-Weight Feeders use positive displacement action.
Press Release Summary: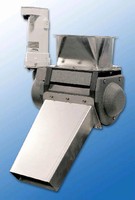 Suited for free-flowing materials, Bulk Solids Pump(TM) Models BSP-135 and BSP-150-P offer uniform discharge, consistent volume, and gentle handling. They come in both volumetric and gravimetric versions and have vertical rotating discs that create feeding ducts. Constructed from aluminum, Model BSP-135 has 3 feeding ducts and offers feed rate of 155 cu-ft/hr. Model BSP-150-P features carbon reinforced PBT body, 5 feeding ducts, and feed rate to 318 cu-ft/hr.
---
Original Press Release:


K-Tron Expands Bulk Solids Pump(TM) (BSP) Feeder Line Adding BSP-150-P and BSP-135 Models




Pitman, NJ--- (November 14, 2005)--- The K-Tron Process Group has expanded the company's award winning Bulk Solids Pump(TM) (BSP) feeder line, adding two new models, the BSP-135 and the BSP-150-P. Volumetric and gravimetric versions of each model will be available. The BSP-135 loss-in-weight feeders can be configured using a platform scale, three-point or one-point suspension weighing. The BSP-150-P can be configured as a loss-in-weight feeder using three-point suspension weighing.

K-Tron's BSP feeders do not use the usual screws/augers, belts or vibratory trays to convey the material. They utilize positive displacement action to feed free flowing materials with astounding accuracy, offering uniform discharge, consistent volume and gentle handling. The BSP feeders have vertical rotating discs that create feeding ducts. Material moves smoothly from storage hopper to discharge outlet through a "product lock-up zone," achieving true linear mass flow. With no pockets or screws and only one moving part, these compact feeders are cleaned in seconds, making them ideal for applications with frequent material changes.

The BSP-135, like the BSP-100, is constructed from aluminum. The BSP-135 features three feeding ducts and will replace the BSP-125, which had two ducts, extending the feed rate range to 155 cubic ft/hr (4400 cubic dm/hr).

The BSP-150-P features a plastic feeder body constructed of carbon reinforced PBT, giving it excellent strength and durability and allowing it to be economically priced. The BSP-150-P has proven itself to be a reliable workhorse in feeding a variety of plastics pellets and granules in a number of beta sites over the last year.

The complete BSP feeder family now consists of:
o BSP-100-- feeds from 0.07 to 14 cubic ft/hr. (2 to 400 cubic dm/hr.) using two discs to create one feeding duct; features aluminum body and uses a stepper motor
o BSP-135-- feeds from 0.8 to 155 cubic ft/hr (22 to 4400 cubic dm/hr.) using four discs to create three feeding ducts; features aluminum body and uses a stepper motor
o BSP-150-S -feeds from 1.2 to 237 cubic ft/hr. (34 to 6700 cubic dm/hr.) using five feeding discs to create four feeding ducts; features stainless steel feeder body and uses a stepper motor.
o BSP-150-P -feeds from 1.6 to 318 cubic ft/hr. (46 to 9000 cubic dm/hr.) using six discs to create five feeding ducts; features plastic feeder body and uses a DC motor.

All four models offer 100:1 motor turn down and are available in volumetric and gravimetric configurations.

For more information, contact the K-Tron Process Group, Routes 55 and 553, Pitman, NJ 08071. Phone +1 856-589-0500. Fax +1 856-589-8113. In Europe, contact K-Tron Switzerland, Industrie Lenzhard, CH-5702, Niederlenz, Switzerland, Phone +41 62 885 71 71, Fax +41 62 885 71 80. Send e-mail to info@ktron.com, or visit K-Tron's Web site at www.ktron.com


More from Communication Systems & Equipment