Loose Pouch Feeder provides accurate inserting and counting.
Press Release Summary: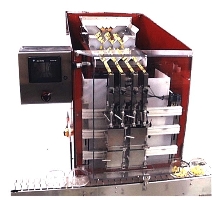 Model OT handles loose bulk quantities of filled pouches of product, both counting and inserting pouches into containers at same time. It accommodates filled pouches in sizes from 1/4 x 1/2 in. to 4 x 6 in. Unit can be customized to feed from 1 to 20 lanes, with per lane feed rate up to 150/min. Model OT can be attached to cartoners, baggers, bucket conveyors, and tray thermoformers.
---
Original Press Release:
Model OT Loose Pouch Feeder from Palace Packaging Machines Provides Accurate Inserting and Counting from Loose Bulk Quantities

The new Model OT loose pouch feeder from Palace Packaging Machines easily handles loose bulk quantities of filled pouches of product, both counting and inserting the pouches into containers at the same time. Designed to be used as either a stand-alone unit or incorporated into a packaging line, the Model OT loose pouch feeder accommodates pouches filled with dry or powdered products, individual pieces such as hardware, medical kit components, and liquid or viscous products. On display in Chicago Nov. 3-7 at Palace Packaging Machines' Pack Expo International booth S-1047, the new Model OT meets the pouch feeding needs of the food, cosmetic, pharmaceutical, medical device, hardware and small parts, and all industries that use desiccants in packaging.

Counting and inserting pouches from loose bulk provides a significant advantage over feeding systems where pouches are cut from a roll, as there is no risk of a slit or opened pouch that spills its contents into the container or onto the factory floor. The Model OT handles filled pouches in sizes from 1/4 x 1/2 inches, up to 4 x 6 inches (0.6 cm x 1.3 cm, up to 10 cm x 15 cm). The Model OT can be customized to feed from one lane up to 20 lanes, with a per lane feed rate up to 150 per minute. It can be attached to cartoners, baggers, bucket conveyors, and tray thermoformers.

In demonstrations at Pack Expo booth S-1047, the Model OT will feed 1 gram desiccant pouches and sugar packets, and changeover quickly to feed canister desiccants into containers. Also on display at the Palace Packaging Machines booth are other types of counting systems, and container feeding and unscrambling systems including centrifugal bowl systems.

Palace Packaging Machines' extensive line of pouch feeders can be linked to cartoning and bagging machines to feed directly into containers, bags, boxes and pouches, and can also be used for pre-staging by feeding into the infeed buckets of a cartoner. Palace Packaging Machines' counters can handle batch counting and insert counting, as well as process counting for quality control purposes. Headquartered in Downington, Pennsylvania, USA, Palace Packaging Machines Inc. manufactures feeding and counting systems, unscramblers, inserters, tablet hoppers and air-veying systems that transport caps for bottles.

For more information:

Stephen Taraschi

Palace Packaging Machines, Inc.

4102 Edges Mill Road

Downington, PA 19335 USA

Tel: 610 873 7252

Fax: 610 873 7384

mailto:stephen@unscramblers.com

http://www.unscramblers.com
More from Fluid & Gas Flow Equipment