Logarithmic Amplifier is suited for signal compression.
Press Release Summary: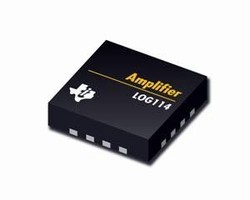 Designed to amplify photodiode signals from fiber optic cables in ONET, Model LOG114 operates on single +5 or ±5 V dual supply over temperature range of -5 to +75°C. DC precision product features 1 µsec rise and fall time, and can handle 8 decades of dynamic range (equivalent to 27 bits, 100 pA to 10 mA input) that suits laser control systems. Available in 4 x 4 mm QFN-16 package, unit can be used for industrial/medical optical density/absorbance measurements.
---
Original Press Release:

TI Introduces Very Wide Dynamic Range, Fast and Accurate Logarithmic Amplifier for Optical Networking, Industrial and Medical Applications



DALLAS (April 12, 2007) - Texas Instruments Incorporated (TI) (NYSE: TXN) introduced today a DC precision, high-speed (1 micro-second rise and fall time), precision logarithmic amplifier that computes the logarithm or log-ratio of an input current or voltage relative to a reference current or voltage. The LOG114 can handle eight decades of dynamic range and the completely tested log function allows use without external components. The small size of the LOG114 makes it a good fit for single-supply systems with a limited number of supply rails. (See www.ti.com/SC07071.)

Specifically designed to amplify photodiode signals from fiber optic cables in optical networking communication systems (ONET), the LOG114 can also be used for industrial and medical optical density/absorbance measurements and general signal compression for a very wide dynamic range of signals in front of an analog-to-digital converter (ADC). The QFN-16 package allows use in small plug-in modules and multi-channel systems.

The high speed and eight decades of dynamic range (equivalent to 27 bits; 100pA to 10mA input) with high precision make it highly desirable in laser control systems. It has an internal 2.5V reference and two independent op amps that can be used for offsetting, amplitude scaling, threshold detection or other functions. In addition, the DC precision permits accurate instrumentation system measurements.

The LOG114 operates on a single +5V or ±5V dual supply over a temperature range of -5C to +75C. Excellent gain stability over temperature is achieved using a special thermal compensation technique on the integrated circuit. Low noise, wide bandwidth amplifiers assure accurate measurement even for low-level signals at relatively higher frequencies, while operating on a low quiescent current of 10mA.

When used for general signal compression, the LOG114 complements TI's ADCs, such as the 12-bit ADS7816, ADS7822 and ADS7844, and the 16-bit ADS8320 and ADS8344. In addition to the LOG114, which is a log transimpedance amplifier, other ICs from TI also have linear transimpedance amplifiers, such as OPA380/381 (resistor feedback transimpedance amplifiers), IVC102 (switch capacitor transimpedance amplifier), and DDC112 (direct digital converter transimpedance amplifier).

Available Today

The LOG114 is available now in a 4mm x 4mm QFN-16 package from TI and its authorized distributors. The device is priced at $7.90 each in 1,000-piece quantities (suggested resale pricing).

TI offers analog engineers a wide-ranging support infrastructure that includes training and seminars, design tools and utilities, technical documentation, evaluation modules, an online KnowledgeBase, a product information hotline and a comprehensive offering of samples that ship within 24 hours of request. For more information on TI´s complete analog design support, and to download the latest Amplifier and Data Converter Selection Guide, visit www.ti.com/analog.

Texas Instruments Incorporated provides innovative DSP and analog technologies to meet our customers' real world signal processing requirements. In addition to Semiconductor, the company includes the Education Technology business. TI is headquartered in Dallas, Texas, and has manufacturing, design or sales operations in more than 25 countries.

Texas Instruments is traded on the New York Stock Exchange under the symbol TXN. More information is located on the World Wide Web at www.ti.com.

Please refer all reader inquiries to:
Texas Instruments Incorporated
Semiconductor Group, SC-07071
Literature Response Center
14950 FAA Blvd.
Ft. Worth, TX 76155
1-800-477-8924