Lockout provides safety for mixers and mills.
Press Release Summary: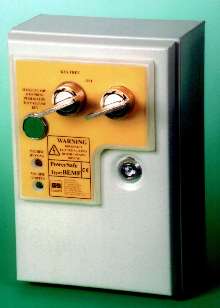 Motion-monitoring Model BEMF ensures that motor-driven equipment up to 600 V, with variable run-down time, has stopped before access is possible. When unit detects zero electromotive force, it establishes that motor has come to complete standstill and releases trapped key corresponding to lock on machine's guard hatch. Key can then be used to access machine. Unit can be connected to ac and dc motors, as well as motors with dc braking systems and variable-speed drives.
---
Original Press Release:

Increased Productivity and Safety for Mixers and Mills


(Erlanger, KY) - An innovative motion-monitoring product for use with trapped-key access control systems has been developed by Castell Interlocks. The BEMF unit ensures that motor-driven equipment up to 600V with a variable run-down time - typically mixers, hammer mills and pellet mills - has completely stopped before access is possible. This avoids reliance on a fixed time delay, which can overcompensate run-down times for lighter loads.

While an electric motor is rotating, whether powered or not, it generates an electromotive force (EMF). This force is monitored by the BEMF unit. When the BEMF detects zero EMF, and thereby establishes that the motor has come to a complete standstill, it releases a trapped key corresponding to a lock on the machine's guard hatch. This key can then be used to gain access to the machine.

The BEMF eliminates the time wasted by fixed-delay systems, since it ensures that machine access is permitted as soon as the run-down is complete; run-down times will vary according to the load in the machine.

The BEMF unit can be connected to both a.c. and d.c. motors, as well as to motors with d.c. braking systems and variable-speed drives. It has been designed to provide the highest level of safety when installed as part of an access control system for dangerous machinery. The product has been evaluated by UL and is now a listed device.

In contrast to movement-sensing devices, whose proximity sensors need to be positioned adjacent to a motor's moving parts, installation of the BEMF is facilitated by the fact that it can be situated at the motor's control panel.

Castell Interlocks Incorporated,
21 Kenton Lands Road, Erlanger, Kentucky 41018
Mark Dornoff
Tel: 859-341-3075 Fax: 859-341-2302
E-mail: sales@castellinterlocks.com
www.castell.com

More from Controls & Controllers