Location and Telematics Solution serves medium-duty truck market.
Press Release Summary: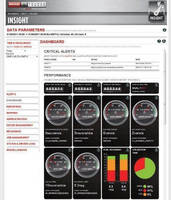 Web-based HINO INSIGHT provides GPS-based, remote fleet management capabilities to fleet operations of all sizes. Services range from route tracking, geofencing, vehicle administration, and planned maintenance management to real-time critical diagnostics alerts, custom fleet performance dashboard reporting, and remote door unlock telemetry. Web portal provides daily snapshot of fleet's diagnostics status and performance against established targets.
---
Original Press Release:

Hino Trucks Introduces Hino Insight Advanced Telematics Solution, Powered by WebTech Wireless®



Features free 1-year service subscription plan, 2-year product warranty, critical vehicle alerts center, fleet manager dashboard, remote power door unlock telemetry, and much more

NOVI, Mich. -- Hino Trucks announces "HINO INSIGHT" - the most advanced, tailored, comprehensive web-based location and telematics solution in the medium-duty commercial truck market. Hino's solution provides innovative GPS-based, remote fleet management capabilities to fleet operations of all sizes - driving efficiencies, safety, security, customer satisfaction and green initiatives.

Hino Trucks and their industry-leading telematics technology partner, WebTech Wireless®, have invested more than two years and over a million miles of real world testing to develop the ultimate, value-added, versatile fleet management solution. INSIGHT is more than a basic telematics package, it is a complete solution including a mix of premium and Hino exclusive services ranging from, route tracking, geofencing, advanced vehicle administration, and planned maintenance management to real-time critical Hino proprietary diagnostics alerts, custom fleet performance dashboard reporting, and remote door unlock telemetry. Additionally, Hino INSIGHT units come standard with a free 1-year service subscription plan and a 2-year Hino OEM full product warranty.

One of the unique elements to Hino INSIGHT is the 'Dashboard' main page of the HinoInsight.com web portal, which is specifically designed for fleet managers to gain a daily snapshot of their fleets' critical diagnostics status and performance against established targets. The INSIGHT Dashboard allows fleet managers to simultaneously access real-time vehicle and driver-related information including key metrics such as:

-- Hino proprietary diagnostics critical alerts,

-- Idle time fuel savings opportunity calculator,

-- Targeted fleet performance for speed, acceleration, braking, and fuel usage,

-- Identification of trucks with greatest performance improvement opportunities,

-- In-route/driving fuel economy versus overall fuel economy,

-- Operating time utilization (drive time, idle time, and PTO time), and

-- Diesel Exhaust Fluid (DEF) tank level monitoring.

The user administration interface of Hino INSIGHT is extremely functional to accommodate the dynamic nature of fleet operations extending internally beyond the fleet manager to various functional roles such as, maintenance supervisors, logistics managers, dispatch, truck drivers, and customer service representatives, as well as externally to, authorities, insurance companies and end customers. As an example, INSIGHT includes a vastly extensive automated email scheduling system that enables for user defined groups of vehicles or drivers for selected reports, dashboards, vehicle critical and truck performance alerts, geofence/landmark parameters, and planned maintenance items, to be emailed and viewed internally or externally without having to access HinoInsight.com or purchasing computer software.

"A prime advantage of our advanced telematics solution is that from conception through final design, INSIGHT has been developed to improve customer satisfaction at all levels, maximizing opportunities for our customers to achieve sustainable competitiveness," said Dominik Beckman, Marketing Manager of Hino Trucks. He continued, "It's more than simply a total operating cost reducing agent and CRM tool, Hino INSIGHT lends to safe vehicle operation and environmental righteousness, which are core elements of our mission."

The integration of WebTech Wireless' fleet management solutions expertise and network of telecommunications industry leaders - Garmin, AT&T, and Google - uniquely positions INSIGHT with the incomparable versatility to accommodate the individual needs of fleets of all sizes operating in any vocation. A few of the advanced options available to INSIGHT customers include: two-way dispatch/driver communication, electronic driver logs with hours of service (HOS) reporting, real-time job management, navigation routing, security/blind spot video monitoring, axle payload weight monitoring, security alert system with emergency call center integration, seat belt and tire pressure monitoring, accelerometer accident reporting, and fully customized vocational solutions for applications such as snow plow, waste management, fuel delivery, and more.

Hino INSIGHT is currently offered for Hino's 2008 through 2012 model year trucks, with customized solutions available to incorporate most GVW Class 1-8 vehicles for a comprehensive fleet management solution.

About Hino: Hino Trucks, a Toyota Group Company, assembles, sells, and services Class 4-7 conventional and cab over engine commercial trucks in the United States. The headquarters is located in Novi, Michigan and boasts a network of over 160 dealers nationwide committed to achieving excellence in customer service and support. Hino Trucks is the premier medium duty nameplate in the United States with a product lineup that offers the lowest total cost of ownership, superior fuel economy, industry-leading environmental friendliness, unmatched reliability and maneuverability, and the most comprehensive bundle of standard features in the market. For more information, visit our internet home page at www.hino.com or follow us on Facebook, Twitter and YouTube.

About WebTech Wireless: WebTech Wireless Inc. (TSX: WEW) is a provider of vehicle fleet location-based services (LBS) and telematics technology. It develops, manufactures and supports end-to-end wireless solutions that improve the productivity, profitability, environmental compliance and safety of vehicle fleets. Its comprehensive suite of products and services include: automatic vehicle location (AVL), mapping, vehicle diagnostics, CO(2) reporting, navigation, messaging, and mobile resource management. The Company serves customers of all sizes in the transport, government, service, insurance and OEM markets in over forty-one countries, including Fortune 500 companies. Specialized products include: Quadrant® fleet management software, InterFleet® solutions for government, and NextBus® real-time passenger information services for transit fleets. For more information, please visit www.webtechwireless.com.


More from Cleaning Products & Equipment