Loader Attachments facilitate asphalt preservation.
Press Release Summary: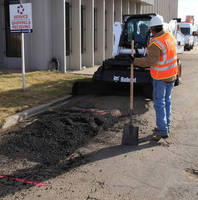 Bobcat® Asphalt Preservation Tools (APT) restoration system benefits those tasked with repairing potholes and other surface defects that develop in streets, highways, and parking lots. Powered by Bobcat loaders, attachments perform 3-step asphalt preservation process that seamlessly fuses recycled asphalt with surrounding asphalt to create strong, durable bond without cold joints or repeated treatments. System consists of 3,760 lb AH30 IR asphalt heater and 995 lb AP40 asphalt processor.
---
Original Press Release:

Bobcat Asphalt Preservation Tools Expand Loaders into Eco-friendly Asphalt Repair



WEST FARGO, N.D. -- Bobcat Company continues to bring customers innovative products and systems that expand the versatile capabilities of their compact equipment. The launch of the new Bobcat® Asphalt Preservation Tools (APT) system provides asphalt paving contractors and government customers with an innovative system that is powered by Bobcat loaders for cost-effective repairs that minimize traffic disruption.



This simple restoration system will be beneficial to asphalt paving contractors and road repair crews at all levels of government for repairing potholes and other surface defects like cracks, deteriorating surfaces, and frost heaves that develop in streets, highways and parking lots. The system also is ideal for reclamation of driveways, trails and golf cart paths.



These attachments are designed to perform a three-step asphalt preservation process that seamlessly fuses recycled asphalt with surrounding asphalt to create a strong and durable bond that outlasts conventional asphalt approaches, because it does not involve cold joints or repeated treatments.



The Bobcat Asphalt Preservation Tools help answer a growing need for eco-friendly restoration processes that will decrease expenses and extend the life of road and highway repairs. According to the National Asphalt Pavement Association, the United States has more than 2 million miles of paved roads and highways, and 94 percent of those are surfaced with asphalt.



The Asphalt Preservation Tools system consists of an infrared asphalt heater and an asphalt processor that is compatible with 12 approved Bobcat all-wheel steer loaders, skid-steer loaders and track loaders including the A300, A770, S300, S330, S750, S770, S850, T300, T320, T750, T770 and T870. These attachments can be connected to the loader quickly and easily with the Bob-Tach® attachment mounting system, which provides a tight-fit attachment hookup.



The 3,760-pound AH30 heater is 59 inches long, 84.4 inches high and 111.4 inches wide. Its three infrared heating elements can heat an asphalt repair area as large as 30 square feet to 300 degrees Fahrenheit to soften and recycle the asphalt for the milling process.



The 995-pound AP40 processor is 60.4 inches long, 47.7 inches high and 76.9 inches wide. It can mill existing damaged asphalt material up to 45.5 inches wide with cutting depths ranging from 1.5 to 6 inches deep. The unit can process, remix and level the rejuvenated asphalt to the desired depth and prepare it for compaction.



This unique asphalt recycling system saves an average of 60 percent of the costs associated with other asphalt repair methods. By reducing the consumption of raw materials, the system also eliminates the purchase, storing and transporting of additional resources. Additionally, the Bobcat asphalt restoration process requires less manpower and less transporting equipment.



The system also works very well when the job requires high maneuverability, as the Bobcat loader and attachments can conduct work within a single lane, minimizing traffic disruption. It is an ideal solution when a smaller repair will answer the need, as opposed to a large asphalt overlay project.



ABOUT BOBCAT COMPANY

Bobcat Company, headquartered in West Fargo, N.D., is a worldwide leader in the manufacturing and distribution of compact equipment. Bobcat compact equipment includes skid-steer, all-wheel steer and compact track loaders; compact excavators; mini-track loaders; VersaHandler® telescopic tool carriers; utility vehicles and Toolcat™ utility work machines. Bobcat is a global brand with more than 600 dealer locations in North America and the leader in compact equipment — the industry's original innovator, beginning more than 50 years ago with the first compact machine and predecessor to the skid-steer loader. For more information on Bobcat products, visit www.bobcat.com.



For additional information about Bobcat Company, its products and services, point your Web browser to www.bobcat.com/our_company/media_center. Bobcat® and the Bobcat logo are registered trademarks of Bobcat Company in the United States and various other countries.



©2012 Bobcat Company. All Rights Reserved.



Please send reader inquiries to:

Jill Piela

Doosan Infracore Construction Equipment

250 E. Beaton Dr.

West Fargo, ND 58078

Phone: (701) 476-4243

E-mail: jill.piela@doosan.com

Related