Load Measuring Pins can suit any mechanical arrangement.
Press Release Summary: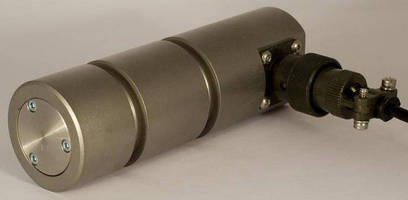 Manufactured from precipitation-hardened stainless steel, DBEP series can be designed/customized to suit existing mechanical arrangements. Amplifiers are available within load pin head to increase output signal to 0-10 Vdc, 0-5 Vdc, or 4-20 mA when low-level signal needs to overcome lengthy cable runs to instrumentation. Sealed to IP67 as standard or IP68 optionally, pins offer standard capacities from 2.5-50 tons, although load capacities are often supplied from 200 kg to 1,500 tons.
---
Original Press Release:

Load Measuring Pins Customised to Suit Any Mechanical Arrangement



A range of load measuring pins is now available from Applied Measurements Ltd, which can be designed and customised to suit almost any existing mechanical arrangement.

A load pin measures the force applied across it, typically via strain gauges that are installed within a small bore through the centre of the pin. Load pins are used in a wide variety of applications, including cranes, winches, hoists and other types of lifting equipment. Typically, the application includes some kind of pulley system or sheave with ropes or wires. The rotating pulley wheel is held in place on a shaft, which can be replaced by a load pin.

In these types of application, the load pins are designed and strain gauged to measure the load in a single direction or axis, since this is usually all that is required to provide the end user with the necessary information.

Other applications require load pins that are designed and strain gauged to monitor the load in two axes simultaneously, normally at right angles to each other. This requires a two-axis load pin.

In most cases, the output signal from the pin is directly from the strain gauges and is normally a low level millivolt output. Often, this low level signal needs amplifying at the pin in order to overcome lengthy cable runs to the instrumentation. Where this is required, Applied Measurements can fit small amplifiers within the head of the load pins to increase the output signal to 0-10Vdc, 0-5Vdc or milliamp, usually 4-20mA.

Peter Lewis, Managing Director at Applied Measurements comments: "We can offer custom load pins at almost the same cost and lead time as our standard load pins. Most of our customers now require us to fit the load pin into their existing mechanical arrangement, which normally requires some sort of customisation. This could be a special IP68 sealing gland for a marine or offshore application, or a two-axis load pin with full instrumentation package to ensure a complete load monitoring solution."

Applied Measurements' standard range of load pins is the DBEP series. This offers capacities from 2.5 tonnes up to 50 tonnes, although the nature of customer applications means that load capacities are often supplied from as low as 200kg up to 1,500 tonnes.

DBEP pins are sealed to IP67 as standard, providing protection from harsh industrial environments. An optional IP68 submersible version is also available. The robust pins are manufactured from precipitation-hardened stainless steel.

For more information on Applied Measurements' range of LVDT sensors, please call the sales department on 0118 981 7339 or email: info@appmeas.co.uk

Applied Measurements Limited (www.appmeas.co.uk) offers a comprehensive selection of transducers based on strain gauge technology. The company's product range includes sensors to measure load, pressure, torque and displacement. In addition, a custom transducer design service and strain gauge bonding facilities are available.

To support the transducer range, a variety of analogue and digital instrumentation is available, including high resolution, high speed and RS232/485 equipped signal conditioners and indicators, as well as portable battery powered indicators with integral data logging, enabling the company to offer complete systems with calibration traceable to UKAS standards.

In addition to the standard transducer range, the company also has the capability to design, develop and manufacture custom devices to meet specific needs. Expertise is based on bonded strain gauge technology, which is carried across the company's complete line of transducers. Involvement in customer projects can be at any stage, from development and design, through prototyping, testing and into full production.

Reader Enquiries/Advertising: Peter Lewis
Managing Director
Applied Measurements Limited
3 Mercury House,
Calleva Park, Aldermaston,
Reading, Berkshire
RG7 8PN
Tel: 0118 981 7339
Fax: 0118 981 9121
Email: peter@appmeas.co.uk
Website: www.appmeas.co.uk

More from Agricultural & Farming Products