Load Cell Signal Conditioner provides complete system.
Press Release Summary: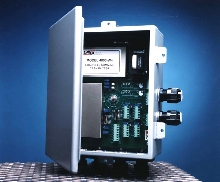 Model 4800 incorporates load cell summing board function with amplier, filter and power supply, providing complete conditioning system for hopper weighing, scales, and tank farms. All components are housed on compact PC board that is available stand alone or mounted in NEMA 4 painted or stainless-steel enclosure. Conditioner can be powered by 90-130 Vac, 180-260 Vac or 11-30 Vdc, selectable by DIP switch. It works with load cell outputs from 5 to 50 mV FS.
---
Original Press Release:
Load Cell Signal Conditioner

Load Cell Signal Conditioner

Calex Mfg. Co., Inc. of Concord California announces the Model 4800 load cell signal conditioner. The model 4800 is unique in that it incorporates the load cell summing board function with an amplier, filter and power supply for a complete turn-key conditioning system for hopper weighing, scales, tank farms, etc. All components are housed on one compact PC board that is available stand alone or mounted in a NEMA 4 painted or stainless steel enclosure.

The Model 4800 can be powered by AC or DC. The user can select the appropriate power source with a flick of a DIP switch. The AC Power source can be from 90 to 130 VAC or from 180 to 260 VAC. The 4800 can also operate on a DC voltage between 11 and 30 VDC. The unit has a LED power on indicator.

The 4800 will operate with a variety of load cell resistances and sensitivities. The live-load load cell output can be as low as 5mV full scale. The 4800 will work with load cell outputs from 5mV to 5OmV full scale. The 4800 is also designed to work with large tare offsets through a built-in bridge balance function. The unit can tare up to 80% full scale of a 3mV/V loadcell using 10V excitation. The output of the 4800 can be selected as either 0-10V or 4-20mA through an on-board DIP switch. With the current output, the compliance voltage is 20 Volts making the 4800 capable of driving a 1000 Ohm loop. The frequency response of the 4800 is 10Hz making the unit ideal for static weighing applications.

The built-in load cell excitation supply for the 4800 is adjustable from 5 to 10V. The excitation supply can provide up to 120mA making the unit capable of driving four 350 Ohm load cells. The excitation source includes remote sense leads to regulate the power supply directly at the load cell. Output noise for the excitation supply is extremely low at 1 mV RMS.

The 4800 is backed by Calex' s five year warranty. List price is $595. Units are available from stock. For more information contact CALEX Mfg. Co., Inc., 2401 Stanwell Dr., Concord, CA, 94520 web: www.calex.com email: sales@calex.com, ph: 800-542-3355 or 925-687-4411, fax: 925-687-3333.

TO INQUIRY PROCESSING: if this news release will be used in an inquiry-generating format, we would appreciate it if your inquiry listings created by this release were identified with our new item code CIS 547. This code will make it possible for us to quickly provide fulfillment literature and best serve your readers (our prospects). All inquiries will be sent a copy of the appropriate literature. All reader inquiries received by your publication should be sent to: CALEX Inquiry Management, 2401 Stanwell Drive, Concord, CA 94520.

2401 Stanwell Drive, Concord, CA 94520-4841 800-542-3355 (925) 687-4411 FAX: (925) 687-3333 Email: calex@calex.com www.calex.com

More from Architectural & Civil Engineering Products