LiveWall Living Wall is The Green Centerpiece in The Re-designed Interior of The Bata Library at Trent University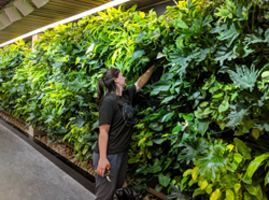 LiveWall ® Indoor Living Wall Symbolizes and Celebrates the Renowned Library's Connection to Nature and the Outdoors
Peterborough, Ontario (PRWeb) June 25, 2019
The transformation of the Bata Library at Trent University features a 278-square-foot (26-square-meter) green wall installed in the atrium with the LiveWall® Indoor Living Wall System. The architectural and academic heart of the main campus of Trent University (Peterborough, Ont.), the Bata Library is a revered building in Canadian architecture. LiveWall is the green industry's most sustainable, durable and low-maintenance living wall system.
Constructed in 1967, the Bata Library is a prominent landmark on Trent University's Peterborough campus, and was designed by architect Ronald Thom (1923-1986), the celebrated pioneer of modern Canadian architecture. Completed in 2018, the transformation project, which was planned and guided by the Toronto studio of Perkins + Will, transformed the building into a true library of the future.
Installed and maintained by green infrastructure specialists Ginkgo Sustainability, the Bata 
Library green wall is almost 7 feet (2 meters) in height and was constructed in two side-by-side sections each 20 feet (six meters) in length. In total, it includes 150 LiveWall modular planter boxes manufactured in a bluestone color. The modular planters contain inserts that hold the growing medium and a total of 380 plants. The plant palette is a mix of seven different tropical plants with dark green, light green and white foliage.
"The living wall is recessed between existing concrete pillars in the library's atrium," said James Mallinson, B.Arch., OAA, LEED AP, project architect, Perkins + Will. "It connects two adjacent seating areas to create an inviting open space, softens the center of the interior, and complements the tone of the cedar ceilings."
Thom envisioned the campus buildings, constructed on the west and east banks of the 
Otonabee River, as growing out of the picturesque landscape on the site's 1,500 acres of 
forested hills. The window-walled Bata Library appears to rise up from river, and the atrium's skylight brings natural daylight streaming into the interior.
"Thom wanted excellent design that harmonizes with natural settings and natural beauty," said Dr. Leo Groarke, Ph.D., president and vice-chancellor, Trent University. "Featuring a living wall in the re-design of the Bata Library is a wonderful way to honor this legacy."
"The library has always celebrated a vital connection to nature and the outdoors," said Shelley Strain, LEED AP, GRP, sustainability coordinator, Trent University Facilities Management. "The living wall symbolizes and strengthens this connection."
Trent University
One of Canada's top universities, Trent University was founded on the ideal of interactive 
learning that is personal, purposeful and transformative. Consistently recognized nationally for leadership in teaching, research and student satisfaction, Trent attracts excellent students from across the country and around the world. Undergraduate and graduate students connect and collaborate with faculty, staff and their peers through diverse communities that span residential colleges, classrooms, disciplines, hands-on research, co-curricular and community-based activities. Trent's Peterborough campus boasts award-winning architecture in a breathtaking natural setting on the banks of the Otonabee River, just 90 minutes from downtown Toronto, while the Durham GTA campus offers a close-knit community with an urban vibe, conveniently located in Oshawa, 40 minutes from downtown Toronto. Explore Trent University at http://www.trentu.ca.
LiveWall
Designed with a healthy regard for plants, LiveWall® is the patented living wall system that achieves simplicity and sustainability in harmony with nature. LiveWall is the result of four years of R&D by the professionals who created LiveRoof®, the superior green roof system. LiveWall green wall solutions are engineered with horticultural and structural features specific for indoor and outdoor environments. LiveWall supports plants as nature intended — roots growing down, stems and leaves growing up. With unsurpassed versatility to grow a diversity of plant types, LiveWall transforms ordinary walls into inspiring, thriving vertical landscapes that are simple to install and easy to maintain. Follow LiveWall on LinkedIn, like LiveWall on Facebook, and for more information call 877-554-4065.
Link to Project Photos: 
https://www.dropbox.com/sh/wmhy0gyfjm628sk/AABfdoSmD77NiwcSyvxz3rGWa?dl=0
Link to Project Video: 
https://youtu.be/nPJPE1rzgHg
Media Contacts:
Mike Haynes
LiveWall
616-935-1974
mikeh(at)livewall(dot)com
David Aquilina
Strategic Storyteller
612-716-5628
davida(at)strategicstoryteller(dot)com
Kathryn Verhulst
Trent University
Manager, Communications
705-748-1011 ext. 6182
kathrynverhulst(at)trentu(dot)ca
More from Agricultural & Farming Products