Live Integrated Production System supports 3G 1080p boards.
Press Release Summary: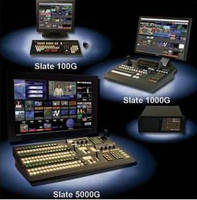 Available with HD, SD, analog, or hybrid I/O, Slate G Series integrates switcher, multi-view monitoring, clip store, graphics store, as well as CG and aspect and format conversion. Intel quad workstation, also included, houses Slate video processing boards and can be upgraded to 3 Gbps 1080p boards. It also boosts built-in clip and graphics stores to HD and upgrades built-in Inscriber CG to HD. Integrated workflow software streamlines ingress of clips and graphics from edit stations.
---
Original Press Release:

Broadcast Pix Introduces Slate G Series



Boosts Built-in Clip Store, CG and Graphics Stores to HD - at No Increase in Price
Marks Debut of First 3G 1080p Upgradeable Switchers

(Billerica, Massachusetts) January 14, 2009. Broadcast Pix today announced the Slate G Series which enhances and replaces its current generation of live integrated production systems, at the same price points. The Slate G Series has a new Intel quad workstation that houses the Slate video processing boards and is powerful enough to be upgradable to future 3Gbps 1080p boards. The quad workstation also boosts the Slate's built-in clip and graphics stores to HD and upgrades its built-in Inscriber CG to HD. Also announced today was new workflow software that streamlines the flow of clips and graphics from edit stations into Slate, even during the middle of a live production.

The Slate G Series is currently shipping. Its 3G upgrade is expected later this year, with the upgrade priced at $11,900 for 1 M/E models, and $18,900 for 2 M/E models. See both the Slate G Series and its 3G upgrade at NAB, in Broadcast Pix' booth #SU2617.

According to Broadcast Pix President Ken Swanton, "In these challenging economic times, you don't need to sacrifice great-looking live video for cost. A single operator on a $14,400 Slate G system can create amazing HD television. And soon with the 3G upgrade, Slate will leapfrog conventional HD equipment in picture quality too. It's live production with no compromises."

The Emerging 3G 1080p Video Production Standard

The new Slate G Series are the only 3G upgradeable switchers. Compared to conventional HD switchers, 3G provides higher quality pictures and effects, superior multi-definition support, and adds 1080p I/O. 3G is named for its data rate, 3Gbps 1080p, which is twice the data rate of conventional HD. Routers have already transitioned to 3G because it offers significant advantages over conventional HD that are even more important for production switchers. Broadcast Pix is one of only two 3G production switchers or video production systems planned for a 2009 debut at this time.

3G creates a superior "multi-definition" switcher. The fundamental problem with conventional multi-def HD switchers is that they lose image quality, such as when using a mixture of 720p and 1080i cameras and other sources or providing outputs in different formats. Upscaling 720p cameras to 1080i means the final output will not have all of its spatial resolution. In the other direction, de-interlacing 1080i sources to output 720p creates artifacts. A 3G 1080p switcher solves both of these problems, providing a superior multi-definition switcher, with lossless use in both mixing of 1080p, 1080i, 720p and SD inputs, and in simultaneous output of all.

1080p progressive processing is also inherently less prone to motion artifacts than conventional interlaced HD switchers. Progressive processing improves picture quality whenever the switcher processes motion, which includes transitions, picture-in-picture boxes and 4:3/16:9 aspect ratio correction. Broadcast Pix is a leader in progressive processing, as all Slate switchers have always had progressive processing.

3G switchers will also take advantage of all the emerging 1080p equipment. In addition to 3G routers and terminal gear, there are now affordable 1080p LCD and plasma monitors, computers with 1080p outputs, projectors with 1080p inputs, and 3G cameras are rapidly emerging.

About the Slate G Series The HD clip formats now supported include Apple ProRes and AVC/H.264. Each of the five new G Series models is a complete live video production system, with switcher, multi-view monitoring, clip store, graphics store, CG and aspect and format conversion, and are available with HD, SD, analog or hybrid I/O. The Slate 100G is controlled from a keyboard and mouse. The Slate 1000G adds a control panel. The Slate 2100G and 3000G add more I/O and redundancy. The Slate 5000G has a larger control panel and 2 M/E switcher. All are ideal for broadcasters, webcasters, entertainment, education, corporate, religious and other live production studios. Previous Slate systems can download the new workflow software announced today, and for $4,700, can swap their workstation for the new G Series quad workstation to enjoy HD clips and graphic support, as well as future 3G upgradeability.

About Broadcast Pix Broadcast Pix is the leader in live television production systems that are more powerful, easier to use, and more cost effective than a traditional control room of individual components. Broadcast Pix Slate systems enable a single operator or small team to create highly compelling live video. Broadcast Pix is based in Billerica, Massachusetts, with offices throughout North America and in Europe. Customers include over 1000 leading broadcast, web-cast, pod-cast, cable, entertainment, mobile, corporate, education, religious and government studios in 50 countries. For more information, go to www.broadcastpix.com.

Broadcast Pix and Slate are trademarks of Broadcast Pix, Inc. Patented.


More from Controls & Controllers