Litter Collection Vehicle features 80 gal capacity container.
Press Release Summary: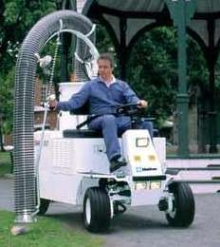 Available in gasoline, diesel, and liquid propane models, Madvac 101 can vacuum up approximately 120 gal of uncompacted litter, and through self-compacting vacuum system, fit it into 80 gal container. It includes power assisted vacuum arm and 8 in. diameter hose that provides straight through suction. System can pick up glass, metal, bottles, cans, cardboard, plastic, or any debris, wet or dry, that fits into hose.
---
Original Press Release:

The New High Capacity 80-gallon Litter Container Results in Less Handling and Higher Productivity.


Designed to meet the needs of high volume litter collection in today's busy streets, Madvac introduces an increased 80-gallon litter container to the Madvac 101 vehicle. The Madvac 101 vehicle can vacuum up approximately 120 gallons of uncompacted litter through its patented vacuum compacting system into the new 80-gallon litter container.

This new added feature allows for fast, efficient, and economical litter collection. Operators can pick-up more litter in less time and have fewer bags to change, resulting in higher productivity. Moreover, it entails very little trash handling for the operators and labor-intensity is reduced.

Consistent with its tradition of innovation, the Madvac 101 is the ultimate in versatility, and offers unmatched maneuverability while disposing of litter. Madvac's self-compacting system can efficiently pick up glass, metal, bottles, cans, cardboard, plastic or any debris, wet or dry that fits into its hose.

Features of the Madvac 101:
o Patented straight through suction
o 80-gallon capacity litter container
o 28 hp Kubota Diesel, liquid cooled engine
o 8" diameter suction hose
o Power Assisted Vacuum Arm
o Available in Gasoline, Diesel, and Liquid Propane