Lithium-ion Battery Option for DIN Rail Quint UPS-IQ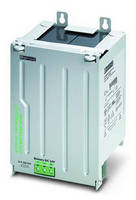 MIDDLETOWN, Pa. - A lithium-ion-based battery is now available for Phoenix Contact's Quint UPS-IQ line. The new battery's longer lifespan and extended temperature range minimize the need for frequent battery replacement.

The lithium technology has a lifespan of up to 15 years, depending on the ambient conditions. That is nearly three times the lifespan of the standard valve-regulated lead-acid (VRLA) battery.

The new battery can operate between temperatures of -20 to 58 Celsius, compared with the zero to 40-degree range of the VRLA battery. This wide temperature range allows back-up batteries to be placed in harsh environments.

The li-ion battery is designed for use with both the AC and DC versions of the Quint UPS-IQ. The Quint UPS-IQ is an intelligent industrial UPS that gives the user advanced diagnostics and battery management information, including the states of charge, health and function.

About Phoenix Contact
Phoenix Contact develops and manufactures industrial electrical and electronic technology products that power, protect, connect and automate systems and equipment for a wide range of industries. Phoenix Contact GmbH & Co. KG, Blomberg, Germany, operates 47 international subsidiaries, including Phoenix Contact USA in Middletown, Pa.


More from Electronic Components & Devices