Lithium Battery Holders fit 2/3A, 1/2AA, and AA cells.
Press Release Summary: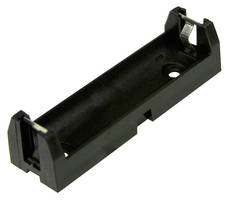 Lithium battery holders 6S-2/3A, 6S-1/2AA, and 6S-AA feature nickel-plated, stainless steel pressure contacts with PC pins tails. Pressure tab arrangement allows units to maintain tight connection with battery cell. Lightweight, plastic holders are manufactured with UL94V-0 and include 2 holes for hard mounting, or they can be bonded with adhesive. Products accept lithium 2/3A, 1/2AA, 28L, 544, and AA batteries and standard-sized alkaline cells.
---
Original Press Release:

Lithium Battery Holders for 2/3A, 1/2AA, & AA Sizes.



MPD introduces its new line of lithium battery holders for 2/3A, 1/2AA & AA cells. These holders were formally made by Delphi-Specialty Electronics (SEI) who has discontinued production recently. Part numbers, 6S-2/3A, 6S-1/2AA and 6S-AA were released for sale this month and currently are shipped from stock.

The 6S family of battery holders have large nickel plated stainless steel pressure contacts with pc pins tails. Offering low resistance and by using a pressure tab arrangement they keep a tight connection with the battery cell for a long term trouble free connection.

A light weight plastic body is made of UL94V-0 for a long service life under natural conditions found in electronic equipment. Both power contacts are stainless steel and nickel plated overall.

The holders accept standard lithium 2/3A, 1/2AA, 28L, 544 and AA batteries. They also accept alkaline cells of standard sizes. They have two mounting holes for hard mounting or it can be bonded down with adhesive. The solder joint strength alone is acceptable for some applications with infrequent battery changes.

List price for 1,000 pieces is $0.44 each and volume discounts are available. Delivery is normally from distributor stock or after a short waiting period.

Web Link: http://batteryholders.com/suba_holders.shtml

More from Explosives, Armaments, and Weaponry