Lithium Assay/Software monitors depression treatment.
Press Release Summary: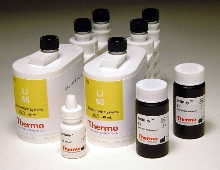 Lithium Assay and SYNCHRON® Software parameters enable commercial laboratories and hospitals to quantitatively determine lithium levels in plasma and serum. Available on UniCel® DxC and SYNCHRON LX® chemistry systems, test and software aid physicians in monitoring patients who take lithium. Panel also includes tests for cyclosporine, vancomycin, acetaminophen, carbamazepine, digoxin, gentamicin, phenobarbital, phenytoin, theophylline, tobramycin, and valproic acid.
---
Original Press Release:

Beckman Coulter Expands TDM Menu with Release of New Lithium Assay and Software to Monitor Treatment of Depression



FULLERTON, Calif. (March 30, 2005) – Beckman Coulter, Inc. has released a new lithium (LI) assay and SYNCHRON® system software parameters to enable commercial laboratories and hospitals to quantitatively determine lithium levels in plasma and serum. Available on Beckman Coulter's UniCel® DxC and SYNCHRON LX® chemistry systems, the new test and software help labs consolidate workstations and aid physicians in monitoring patients who take lithium, which is used to treat manic-depressive psychosis. The assay is manufactured by Thermo Electron Corp. and distributed by Beckman Coulter. The analyzers automatically dilute the sample 1:29. The 12-hour post-dose trough concentration is 1.0 to 1.2 mmol/L, while values greater than 1.5 mmol/L 12 hours after the dose indicate a significant risk of intoxication. The linear range is up to 3.00 mmol/L. The LI assay expands Beckman Coulter's therapeutic drug monitoring (TDM) and management panel on its UniCel DxC and SYNCHRON LX systems. In addition to LI, the panel includes tests for cyclosporine, vancomycin, acetaminophen, carbamazepine, digoxin, gentamicin, phenobarbital, phenytoin, theophylline, tobramycin and valproic acid. In all, Beckman Coulter's UniCel DxC and SYNCHRON systems offer more than 100 liquid, ready-to-use reagents, including TDMs, general chemistries, critical care chemistries, proteins, drugs-of-abuse, and serologies and esoteric chemistries. Released earlier this year, the UniCel DxC 600 is a next-generation platform that builds on the technology of the company's market-leading SYNCHRON clinical analyzers. The DxC 600 features onboard capacity of 65 reagents, throughput up to 990 tests per hour, and results for 96 basic metabolic panels within one hour. Systems in the SYNCHRON LX family include the SYNCHRON LX20, SYNCHRON LX20 PRO and SYNCHRON LXi 725, which combines chemistry and immunoassay analysis technology with data management and automated sample handling on a single instrument. Beckman Coulter, Inc. is a leading manufacturer of biomedical testing instrument systems, tests and supplies that simplify and automate laboratory processes. Spanning the biomedical testing continuum — from pioneering medical research and clinical trials to laboratory diagnostics and point-of-care testing — Beckman Coulter's 200,000 installed systems provide essential biomedical information to enhance health care around the world. The company, based in Fullerton, Calif., reported 2004 annual sales of $2.4 billion with 64 percent of this amount generated by recurring revenue from supplies, test kits and services. For more information, visit www.beckmancoulter.com or call (800) 352-3433. Please send reader inquiries from this news release directly to: Dan Siegenthaler, Marketing Manager, Clinical Chemistry, Beckman Coulter, Inc., 200 S. Kraemer Blvd. Brea, California 92821. Phone: (714) 961-3594. Fax: (714) 961-3825. E-mail: dmsiegenthaler@beckmancoulter.com

More from Materials