Liquidtight Fittings suit space-sensitive environments.
Press Release Summary: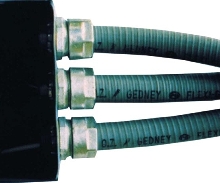 Liquidtight/raintight/oiltight 4Q Connectors offer slim profile for tight turning radius. They are available in trade sizes of 3/8 to 6 in. with straight, 45 deg, and 90 deg insulated or non-insulated body design. Body and nut are made of zinc-plated malleable iron. Extra long hub enables use of bushings to protect conductors from abrasion. Sealing gasket and locknut are included.
---
Original Press Release:
O-Z/Gedney Liquidtight Fittings Ideal for Demanding, Space-Sensitive Industrial Environments

SKOKIE, IL, May 6, 2002 - Electrical contractors and OEMs looking for an easy-to-install, long-lasting fitting for use with Liquidtight Flexible Metallic Conduit, Type LFMC, will appreciate the 4Q Liquidtight Connector from O-Z/Gedney, thanks to its compact, slim profile that allows for a tighter turning radius allowing installation in standard knock-out spacing, and for its rugged construction that withstands the most abusive environments.

The O-Z/Gedney 4Q connector rated liquidtight/raintight/oiltight, and is especially effective for use in machine tool building, motor and transformer terminations, outdoor electrification, robotics assembly, air conditioning installation or other wiring jobs that require protection from the elements. In addition, it is suitable for use in Class I, Div. 2 and Zone 2 hazardous locations, as well as Class II, Div 1,2 and Class III.

Performance-enhancing features include the zinc-plated malleable iron body and nut that ensure a long service life, minimizing costly service calls. The compact design saves space and materials, resulting in the maximum number of fittings in the smallest space. Other key features are the captive gland that stays in the fittings, making installation quick and easy; a hex-shaped gland nut; and extra long hub that enables the use of bushings to protect conductors from abrasion; and a reusable ferrule that can be disassembled and used again to save time and money in retrofit jobs.

O-Z/Gedney 4Q Liquidtight Connectors are available in trade sizes of 3/8-inch to 6-inches, with body designs of straight, 45 and 90 deg, insulated or non-insulated. The sealing gasket and locknut are included with the connector, eliminating the need for separate purchases.

Options include external ground wire lug, Hot Dip / Mechanical Galvanize finish, Wire-mesh Grips, Female connectors for direct connection to threaded conduit, or non-metallic construction.

For more information contact OZ/Gedney, EGS Electrical Group, 7770 North Frontage Road, Skokie, Illinois 60077. Phone: 1-847-679-7800. Fax: 1-847-763-6016.

O-Z/Gedney has served the industrial market for over 150 years, and is today a recognized leader in a broad range of product categories, including electrical fittings, conduit bodies, cable fittings and terminators, industrial lighting, and enclosures & controls.

Headquartered in Skokie, Illinois, OZ/Gedney is part of the EGS
Electrical Group.

CONTACT

Daniel O'Connell

O'Connell Communications, Inc.

708/482-0972

Marie O'Leary

EGS Electrical Group

847/679-7800
More from Materials