Liquid Level Transmitters offer less than ±0.20% FS accuracy.
Press Release Summary: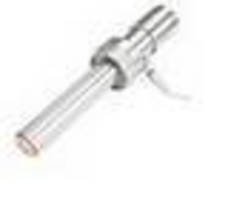 Applicable to most tanks or process vessels whose contents remain at normal atmospheric pressure, KING-GAGE® ES2 Transmitters have IP68 rated connections and offer resistance to moisture, condensation, and aggressive cleaning agents in heavy washdown installations. Transmitter turndown ratio is 3:1 for 0-15, 0-30, and 0-50 psig nominal ranges. Providing 4-20 mAdc output signal, transmitters are compatible with PLCs or other control architectures using analog I/O.
---
Original Press Release:

NEW: ES2 Slimline Transmitter



KING-GAGE® ES2 liquid level transmitter has IP68 rated connections plus a resilient design for immunity against moisture, condensation, and highly aggressive cleaning agents in heavy washdown installations. For sanitary processing, the ES2 transmitter gives you greater reliability for inventory and level control monitoring.

KING-GAGE ES2 transmitters are applicable to most tanks or process vessels whose contents remain at normal atmospheric pressure. The transmitter's 4-20 mAdc output signal is compatible with PLCs or other control architecture using analog I/O. Accurate tank gauging can be achieved using KING-GAGE indicators or tank processors that convert the proportional output into a volumetric measurement of tank level.
Measuring hydrostatic head pressure created by liquid depth in the tank, they are unaffected by foam or internal obstructions such as agitators. Pressure affords consistent measurement because it is based on the total mass of the liquid, not the relative volume or displacement that varies by temperature.

Pressure Ranges

Transmitter turndown ratio is 3:1 for the 0-15 psig, 0-30 psig, and 0-50 psig nominal ranges. (Gage pressure measured relative to atmospheric pressure)

Accuracy

Less than ±0.20% FS. Includes linearity, hysteresis, nonrepeatability errors.

Pressure Media

Gas or Liquids compatible with 316 stainless steel (diaphragm); silicone rubber (O-ring). All other wetted parts 316L.

Electrical

Input (excitation): 14-40 Vdc

Output (mAdc): 4-20 milliamperes

Linearity (Worse Case)

Less than ±0.13% FS

Hysteresis (Worst Case)

Less than 0.05% FS

Non-Repeatability (Worst Case)

Less than 0.02% FS

Operating Temperature Range

0°F to 175°F / -17°C to 79°C

More from Software