Liquid Level Transmitter features absolute magnetic encoding.
Press Release Summary: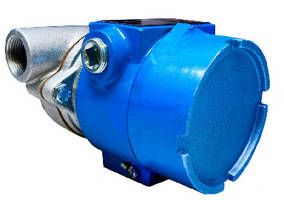 Providing range of 0-128 ft, Model MCG 2420 utilizes foot and inch magnets and operates without batteries or EPROMs. Transmitter is suited for critical level gauging applications and has optional LCD so level can be recorded at tank or transmitted back to control room via wires or wirelessly. Completely unaffected by power failures, transmitter will accurately reflect current level after power is restored, without need for additional calibration.
---
Original Press Release:

L&J Engineering Announces MCG 2420 Transmitter



Hillside, IL - March 20, 2010 - Today L&J Engineering announced its new, low-cost MCG 2420 Transmitter.

The MCG 2420's versatile design allows it to be easily installed into existing applications. The MCG 2420 can easily couple to the Shand & Jurs Model 92302 & 92303 Liquid Level Indicators, and also the Varec 6700 Liquid Level Indicator.

The MCG 2420 boasts a number of key features present in its sister-transmitter, the MCG 2000MAX, including Absolute Magnetic Encoding. The MCG 2420 runs on ultra-low power and does not require batteries or eproms.

L&J has replaced the foot and inch optical discs with foot and inch magnets which provide much greater accuracy and reliability and also allows for the option of using a much smaller housing than previously possible. The MCG 2420 has an expanded range of 0-128 feet. By using absolute magnetic encoding the number of parts required is greatly reduced in turn providing unmatched reliability.

"The MCG 2420 shows L&J Engineering's innovation in the level gauging market," Product Manager Jim Jannotta said. "It's designed to ensure maximum reliability in critical level gauging applications and has an optional LCD display so level can be recorded at the tank or transmitted back to the control room via wires or wirelessly."

Similar to other L&J Engineering Transmitters, the MCG 2420 is completely unaffected by power failures in your tank farm without the use of batteries. When power is restored the transmitter will accurately reflect the current level, even if it has changed, without the need for additional calibration.

Along with all other L&J level gauging equipment, the MCG 2420 can communicate with L&J Engineering's MCG 3630 Touch Panel Tank Monitor.

About L&J Technologies

L&J Technologies companies include L&J Engineering, Shand & Jurs (S&J), GPE, Omnitrol, and Delavan. L&J is a global manufacturer of tank level gauging and tank fitting equipment, control systems technology and related products. L&J is a manufacturer that prides itself on 90 plus years of supplying the industry with only the finest American Made components and equipment. Custom engineering services, reliable and innovative technology, a complete field service team, and a state of the art manufacturing facility help L&J to build productive relationships with customers, representatives and suppliers. L&J provides quality products for many industries, including Petroleum, Petrochemical, Chemical, Food, Pharmaceutical, Pipeline, Wastewater, Steel, and Water Treatment.

For more information on L&J Technologies:

http://www.ljtechnologies.com/

Contact:

Joe Reitz,

(708) 236©0 x213

jreitz@ljtechnologies.com

More from Optics & Photonics