Vision and Imaging Sensors / Detectors
Liquid Level Sensors feature explosion proof design.
Press Release Summary: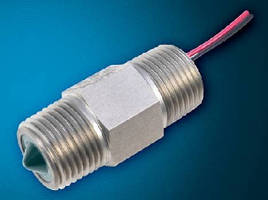 At just 2 in. in length, ELS-1150XP Series Electro-Optic Sensors can accurately monitor levels in storage tanks, chemical injection equipment, compression tanks, hydraulic oil vessels, glycol tanks, and other well head automation equipment. FM-approved units have no moving parts and are available in nickel-plated carbon steel or stainless steel. Fused glass prism, capable of operation from -40 to +257°F and up to 5,000 psi, eliminates leak potential.
---
Original Press Release:

FM-Approved Explosion-Proof Electro-Optic Liquid Level Sensor



ELS-1150XP



Plainville CT, -- Where flammable and explosive atmospheres exist, specialized electrical sensors must be deployed. The new Gems Sensors & Controls ELS-1150XP Series electro-optic liquid level sensors are designed and approved for these types of hazardous environments. At just 2-inches in length, these compact sensors are ideal candidates for monitoring the small, pressurized vessels found in oil, gas and petrochem environments. They accurately monitor level in applications such as: storage tanks, chemical injection equipment, compression tanks, hydraulic oil vessels, glycol tanks, and other well head automation equipment.



These rugged level sensors have no moving parts and are available in nickel-plated carbon steel or stainless steel. The strong fused glass prism eliminates leak potential and is capable of operation in temperatures ranging from -40°F to +257°F (-40°C to +125°C) and in pressures up to 5000 psi.



"These optic sensors give oil & gas equipment manufacturers the assurance to detect level in the harsh environments this industry can bring" says Ryan Lisiak, Oil & Gas Market Manager at Gems Sensor. "With nothing to clog, these optic sensors give a unique way of monitoring high and low level conditions in a variety of applications."



The explosion-proof ELS-1150XP series is manufactured for use in environment classified as Class I, Div. I, Groups A, B, C, and D; Class II/III, Groups E, F, and G. These are areas containing flammable bases or vapors in quantities sufficient to produce explosive or ignitable mixtures. The ELS 1150XP is approved for use with virtually all hydrocarbon based liquids and gases, as well as with combustible atmospheres containing dusts of coal, coke, flour, or starches of other grains.



Check out the complete specifications, dimensions and wiring diagrams for the new ELS-1150XP Electro-Optic Level Sensors.



For more product information, contact Gems Sensors & Controls, One Cowles Road, Plainville, Connecticut 06062. Phone: (800) 378-1600

More from Computer Hardware & Peripherals