Level Sensors / Detectors / Transducers
Liquid Level Meter offers accuracy to ±0.06%.
Press Release Summary: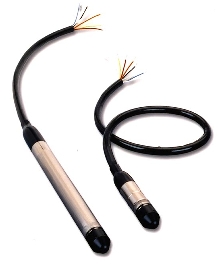 Suitable for industrial level measurements in liquid control applications, PDCR/PTX 1830 Series offers FS operating ranges from 1 to 900 psi with choice of electrical format. Its 4-wire transducer variant, PDCR 1830, offers FS scale signal of up to 100 mV, while transmitter variant, PTX 1830, is a standard 2-wire, 4 to 20 mA device. Its integral lightning surge arrestor protects against raised ground potentials.
---
Original Press Release:
New and Improved Accuracy PDCR/PTX 1830 Series

The new generation PDCR/PTX 1830 Series is suitable for industrial level measurements in many water and liquid control applications. Ideally suited for: well and surface measurements in rivers, canals and reservoirs; wastewater monitoring including secondary and outflow sewage and contaminated ground water levels in land fill sites; tank level applications ranging from land based liquid storage vessels to on-board ship ballast tank monitoring. Marine applications include tide gauging, coastal/flood protection and wave profiling amongst others.

Fullscale operating ranges are available from 1 PSI to up to 900 PSI with a choice of electrical format. The 4 wire transducer variant PDCR 1830 offers a full scale signal of up to 100mV, while the transmitter variant PTX 1830 is a standard 2 wire 4 to 20mA device. For high precision applications, accuracy is available up to ±0.06% and for pulse powered operations a short switch-on time saves electrical power. An integral lightning surge arrestor can be supplied, which protects against raised ground potentials caused by surface lightning strikes.

For further information, contact Lisa Hickey at 203-746-0400 extension 311 or at hickeyl@druck.com

For technical information, contact Paul Lupke at 203-746-0400 extension 313 or at lupkep@druck.com
More from Mechanical Power Transmission