Level Sensors / Detectors / Transducers
Liquid Level Indicator has non-electric, dual-chamber design.
Press Release Summary: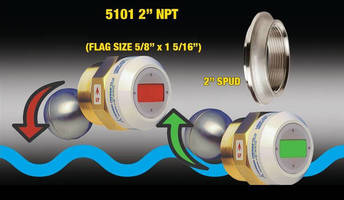 Incapable of freezing, nitrogen-filled model 5101 has front chamber that houses readily viewable color flag and another housing that holds magnet and float. These separate chambers, manufactured with either Brass or 316 SST, can be mounted into female spud and ensure that front flag indicator never comes in contact with liquid being measured. Design also allows use in hazardous locations.
---
Original Press Release:

Thomas Products LTD Reveals Non-Electrical Liquid Level Indicators Model 5101



Thomas Products LTD has brought to market a new Non-Electric liquid level indicator.



The 5101 has two separate chambers, one being the front chamber that houses an easy to see color flag. The other housing holds the magnet and the equipped float. The two separate chambers allows for the front flag indicator to never come in contact with the liquid being measured. These can be manufactured with either Brass or 316 SST. These can be easily mounted into a female spud that we are currently stocking.



Our 5101 model is nitrogen filled and does not freeze. Allowing it to be used in a number of hazardous locations.  Compared to other continous level monitoring devices, Thomas Products Ltd.'s 5101 is much more cost effective than any other device avaiable on the market to day.

Related