Liquid Crystal Display achieves 180% transmissivity.
Press Release Summary: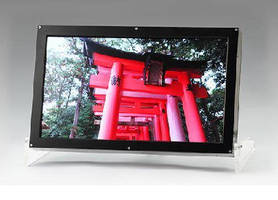 Featuring 19.5 in. diagonal screen size and 3840 x 2160 resolution, 4K2K LCD Panel utilizes Super Fine TFT2 technology, which is comparable to In-Plane Switching. SFT2 maximizes efficiency of light utilization, delivering 1000 cd/m² luminance with low power consumption. Because module generates less heat, it does not need cooling fan. SFT2 also suppresses change of color tone when viewed from angled position. Typical applications include broadcasting, graphic design, and medical imaging.
---
Original Press Release:

Tianma NLT America Introduces New 4k2k LCD with NLT's Proprietary SFT2 Technology for Ultra-High Transmissivity



Santa Clara, CA -- Tianma NLT America has introduced a new 19.5" diagonal 4K2K resolution LCD developed by NLT Technologies Ltd. with a proprietary pixel structure that delivers high transmissivity and high-density color display.



The new LCD utilizes NLT's proprietary new Super Fine TFT2 (SFT2) technology, which is comparable to In-Plane Switching (IPS) and an evolutionary version of NLT's proprietary wide viewing angle technology, Super Fine TFT. By making radical modifications to the wiring, electrodes and other aspects of the pixel design, NLT has attained an ultra-high aperture ratio to achieve transmissivity levels of 180% -- higher than those of conventional technology and at fine pixel pitch levels.



Features of the new LCD include:



(1) Low power consumption

By improving the panel's light-utilization efficiency, high luminance is achieved while keeping power consumption low. Combined with an optimal backlight design, this enables power consumption to be reduced, delivering a power savings of approximately 35% compared with existing displays.



(2) Reduction of heat generation

Because the amount of power consumed by the backlight is dramatically reduced, the amount of heat generated by the LCD module is also reduced. This obviates the need to include a cooling fan in the monitor and enables the size of the heat-dissipation slits to be reduced, so the module poses fewer constraints on system design.



(3) Wide color gamut

NLT's proprietary new SFT2 technology combines outstanding viewing angle characteristics with high transmissivity. A wide color gamut (NTSC ratio in excess of 80%) is achieved without sacrificing luminance. Moreover, SFT2 technology suppresses the change of color tone when viewed from an angled position. The LCD module delivers display characteristics suitable for high-end applications -- such as broadcasting, graphic design and medical imaging -- that require high color reproduction.



In recent years, displays used in industrial and medical applications have shown a trend toward higher density and higher luminance in order to deliver improved image quality. However, the backlights used in high density, high luminance LCDs consume more power. Taking into consideration environmental impact and system maintenance costs, it is necessary to achieve a reduction in power consumption.



SFT2 technology dramatically improves the efficiency of light utilization of the LCD panel, delivering outstanding luminance and resolution with low power consumption. Because the module generates less heat, it does not need a cooling fan, and the heat dissipation slits require less area than in conventional modules. Consequently, the footprint of the monitor utilizing the panel can be made smaller.



To meet the high level of demand in the medical and industrial fields, NLT continues to develop display solutions delivering improvements such as wider viewing angles, higher image quality and lower power consumption.



A prototype of new LCD module will be showcased at the Embedded Systems Expo 2015 (#East 11-60), May 14-16, at Tokyo Big Sight in Japan, and also at Display Week 2015 (#917), June 2-4, in San Jose, California, USA.



General Specifications of 4K2K LCD

Screen size 19.5 inch

Resolution 3840 x 2160 (4K2K)

Pixel pitch 0.1125 x 0.1125 mm

Luminance 1000 cd/m²

Viewing angle 176°(H) / 176°(V)

Color gamut 80% (NTSC ratio)

Remarks SFT2



SFT2 technology dramatically improves the efficiency of light utilization of the LCD panel, delivering outstanding luminance and resolution with low power consumption.



For more information, contact

Tianma NLT America, Inc.

2801 Scott Blvd.

Santa Clara, CA 95050

1-408-816-7010

marketing@tianma-nlt.com

www.tianma-nlt.com



About Tianma NLT America

Tianma NLT America, Inc. (TNAM) was established in November 2013 as a joint venture between Shanghai AVIC Optoelectronics Co., Ltd. and NLT Technologies, Ltd. TNAM is focused on providing the Americas with LCD products specifically for industrial and professional applications. With an extensive lineup of 2.X to 21.X-inch active-matrix LCD modules and a network of best-in-class distributors and value-added partners, Tianma NLT America provides complete display module solutions to a broad base of customers and applications. The range of LCD modules offered includes ultra-high resolutions, wide temperature ranges, high contrast ratios, rich color gamut, backward compatibility, LED backlights, and transflective viewing for use in diverse lighting environments.



Tianma NLT America is committed to delivering innovative, high-performance, eco-conscious LCD solutions that address the diverse size, power and high image-quality needs of our industrial, medical, professional and high-end monitor customers. Based on technologies developed by NLT Technologies and other Tianma Group companies, the LCD modules are optimized and designed for a wide range of applications, including portable and stationary medical equipment, test and measurement devices, instrumentation equipment, point-of-sale and ATM systems, gaming systems, global positioning systems, radio-frequency identification devices and barcode scanners.



Additional information can be found at http://www.tianma-nlt.com

More from Electrical Equipment & Systems