Liquid Color Management System ends handling problems.
Press Release Summary: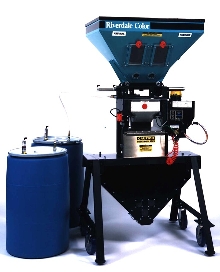 Pump-in-a-Drum(TM) system is based on metering mechanism whose pump is inside standard-size drum that stays sealed. During processing, system meters color through sealed tubing assembly, with automatic shutoffs preventing spillage. Changeover from empty to full drums is automatic, requiring no monitoring by operator. By returning drum to company, processor avoids problems of discarding it.
---
Original Press Release:
'Never-See-A-Drop' Liquid Color Management System Ends Handling Problems And Opens Way To Substantial Cost Savings

Use of Liquid Color in New 'Pump-in-a-Drum(TM)' System, Combined with Gravimetric Blender, Could Yield Savings Equivalent to 5% or more of a Processor's Annual Sales

PERTH AMBOY, NEW JERSEY, U.S.A., April 23, 2002-Gone are the handling complications and the sheer mess of improper usage that have long prevented many plastics processors from exploiting the cost advantages of liquid color over conventional pellet
concentrates, it was announced today by Riverdale Color Mfg., Inc.

A comprehensive color management system developed by this company for users of its liquid colors eliminates all of the housekeeping tasks associated with such colors, according to
Chuck Irish, President of Riverdale Color. Called the Pump-in-a-Drum(TM) system, it centers on an innovative metering mechanism whose pump is inside a standard-size drum that stays sealed
from the moment it leaves the Riverdale Color loading dock to its return from the customer. During processing, the system meters color through a sealed tubing assembly, with automatic
shutoffs preventing spillage. Changeover from empty to full drums is automatic, requiring no monitoring by the operator. By returning the drum to Riverdale Color, the processor avoids the
problem of discarding it. Riverdale Color takes responsibility for pump maintenance, tubing replacement, and other color-handling logistics.

"With our new Pump-in-a-Drum system, the processor literally never sees a drop of colorant," said Chuck Irish, President of Riverdale Color. "Spillage, leakage, cleanup, tube replacement, pump maintenance, uncolored product, unused colorant, environmental concerns, disposal costs-all the complications of conventional liquid color handling disappear. What remains are the substantial cost advantages of liquid color over color concentrate in pellet form."

Total System, Including Maguire® Blender, Could Save More than US$ 450,000 a Year

Estimates by Riverdale Color indicate that a typical processor running ten production lines can save more than $75,000 per year by adopting the Pump-in-a-Drum system in place of conventional liquid color handling (see table). Also important, according to Irish, is the elimination of handling complications and housekeeping problems: "By making it easy for processors to work with liquid colors, our system opens the opportunity for far greater savings by using these colors in place of concentrates. And since liquid color is readily incorporated in a
gravimetric blender, even further savings are achievable because of the blender's greater accuracy in comparison with volumetric feeding."

A total system incorporating liquid colors, the Pump-in-a-Drum system, and the Maguire® Weigh Scale Blender (of which Riverdale Color is a distributor) can yield annual costs savings of more than $450,000 for a typical processor coloring 5,000,000 lb. (2,270,000 kg) of resin per year, according to estimates summed up in the accompanying table.

Riverdale Color Takes Charge of 'Liquid Logistics'-Processors Simply Handle Drums

"The whole point of our total-system service package is to free the processor from the logistics of handling liquid color and to eliminate the cleanup," said Irish. "In a perfect world, operators would handle liquid color in a way that prevents leakage and spills. Our system addresses conditions in the real world by reducing the processor's handling of liquid color to nothing more than moving containers from the loading dock to storage to the plant floor and back again."

Another example of Riverdale Color's innovation is the patent-pending Pump-in-a-Drum metering system. Each liquid color container comes with its own pump inside the sealed drum.
The pump delivers liquid color through a plastic tube that passes through the lid. Atop the lid is a hydraulic quick-connect fitting with an internal shut-off that permits flow only when the pump is operated. Another automatic shut-off is at the other end of the tube leading into the processing machine. When either end of the tube is disconnected, these shut-offs prevent dripping.

Because the pumping action of conventional peristaltic pumps causes wear in the delivery tube, this tube must be changed every 30 days. Riverdale Color's new system eliminates the
time and expense of tube replacement as well as the risk of a messy spill should a tube break. The company supplies a free delivery tube for use with each color at each processing machine.

Two drums of liquid color are placed at each processing machine. When one container runs out of color, changeover to the second is automatic. An alarm sounds to remind the operator to replace the now-empty container. Upon its return to Riverdale Color and reordering of the same color, Riverdale Color credits the processor for any unused liquid at the bottom of the container. The container with its built-in pump remains the property of Riverdale Color, which pays the freight cost for its return.

New System Makes Liquid Color Economies More Accessible

The handling and housekeeping complications eliminated by the Pump-in-a-Drum system have been the one obstacle preventing many processors from taking advantage of liquid color economies, according to Irish. Although liquid color costs more per pound than pellet concentrate, it contains higher pigment loadings and requires lower usage levels. "Coloring with liquids is far less expensive per unit of finished product than with concentrate," Irish said. "In addition, liquid color generally requires only about one-quarter the storage space."

Even greater cost savings may be possible with use of a gravimetric blender, Irish pointed out, citing three reasons: 1) The blender weighs the liquid color component of each blender
batch, avoiding the over-coloring that frequently occurs with volumetric systems; 2) it adjusts colorant loading to compensate for color already present in regrind; and 3) its greater precision in comparison with volumetric systems reduces reject rates and the added machine time necessary to compensate for rejects.

In processing lines without gravimetric blenders, the Pump-in-a-Drum system is used with a standard Riverdale® Cam-Drive volumetric controller mounted atop the drum.

RIVERDALE COLOR MANUFACTURING, INC. is a leading international supplier of liquid colorants and additives to the plastics industry whose products are used in consumer and commercial markets for toys, personal care items, packaging, and outdoor furniture. The company's world headquarters is at a new 60,000 sq.ft. (5,600 m2) state-of-the-art manufacturing facility in Perth Amboy, New Jersey, U.S.A. An experienced staff of experts in color development, color matching, and quality control ensures high-quality product from project inception through end use. The Riverdale legacy dates back to the early 1900s as a supplier of dyes and industrial chemicals. Visit www.riverdalecolor.com.

1 Walnut Street, Perth Amboy, New Jersey 08861 Tel: (732) 376-9300 Fax: (732) 376-9394 Web site: www.riverdalecolor.com
Related