Liquid Chromatography System offers various pressure options.
Press Release Summary: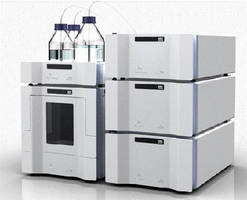 Incorporating ergonomic industrial design, multi-tiered Flexar(TM) UHPLC System ranges from 6-15 kpsi to address needs of HPLC laboratories. Users have choice of instrument control with Chromera workstation-based Chromatography Data System or TotalChrom® for those that require regulated or client-server based CDS system. Chromera provides suite of tools that allow users to control instruments, visualize data, and communicate results through accessible worktop.
---
Original Press Release:

PerkinElmer Broadens Liquid Chromatography Portfolio with New High Performance Platform and Chromatography Data System



Delivers expanded range of solutions including UHPLC for Higher Performance and Faster Analysis Time

Chicago - PerkinElmer, Inc., a global leader focused on the health and safety of people and the environment, today introduced the new Flexar(TM) liquid chromatography (LC) platform, which will be controlled by the new Chromera® Chromatography Data System (CDS). Flexar incorporates a new ergonomic industrial design and delivers a wide range of pressure options intended to address the increasingly demanding application needs of high pressure liquid chromatography (HPLC) laboratories. The Company's new multi-tiered platform offers solutions from semi-prep to ultra high pressure liquid chromatography (UHPLC).

Chromera® has been built from the ground up, offering an easy approach to LC instrument control and chromatographic data processing. The instrument platform and software build upon PerkinElmer's commitment to superior reliability in LC product design and control, providing a platform that covers a wider performance and pressure range.

"These new systems mark our commitment to delivering innovation and greater productivity to this market," said Richard Begley, Ph.D., president, Analytical Sciences, PerkinElmer. "We are also focused on addressing the important concerns of laboratory professionals, which include both materials costs and waste-disposal."

The Flexar UHPLC Systems feature the new FX-15 UHPLC system, which can provide as much as a 10-fold gain in productivity, while reducing mobile phase solvent consumption by as much as 15-fold, depending on the application. Smaller particle size (<2µm) columns offer new possibilities for resolution and separations, as well as allow for faster analysis time. This introduction to the market is timely, as HPLC laboratory managers are faced with a shortage of the key HPLC solvent, acetronitrile, and are increasingly focused on reducing solvent consumption to drive more environmentally sound operations and reduce the cost of waste disposal.

The new Chromera CDS provides an extensive suite of powerful tools designed to allow users to more easily control instruments, rapidly visualize data and efficiently communicate results through an accessible worktop. The platform uses a patented technology for instrument control that allows flexibility of configurations and multiple detection capabilities to help address the increasing need for laboratory productivity.

Chromera also extends Flexar's flexibility by supporting multi-detector system configurations often used in environmental and food safety applications. For example, polynuclear aromatic hydrocarbons can be determined in food and environmental samples using a Flexar system combining UV/VIS and fluorescence detectors. Laboratory managers and bench chemists in the environmental, food safety and quality, chemical, and pharmaceutical industries, as well as academia in environmental, biotech and chemical research can benefit from the flexibility that the Flexar UHPLC Systems and Chromera offer.

Flexar is the only product line on the market that offers complete LC systems ranging from 6k psi to 10k psi to 15k psi operation, allowing for highly customized LC solutions for specific applications. Additional benefits of the Flexar UHPLC Systems include greater uptime results and a low total cost of ownership, with very cost-effective maintenance and parts.

Flexar UHPLC users have a choice for instrument control with the new Chromera workstation-based CDS or TotalChrom® for those who require a regulated or client-server based CDS system. Chromera also offers a new ergonomic design that streamlines practical elegance and is intended to provide an intuitive workflow.

"PerkinElmer is invested in ensuring that our liquid chromatography offerings continue to demonstrate more robust and powerful designs than any other offerings on the market," said Eric Ziegler, vice president, Chromatography Business Unit, Analytical Sciences, PerkinElmer. "The new Chromera design is the first in a line of products under development that will continue to support additional instruments and provide increasing levels of functionality from the workstation to enterprise-wide."

PerkinElmer made the announcement today at the annual Pittsburgh Conference (PITTCON) in Chicago, Illinois, where the new Flexar and Chromera systems will be on display at booth #942, March 9-12, 2009.

About PerkinElmer, Inc.

PerkinElmer, Inc. is a global leader focused on improving the health and safety of people and the environment. The Company reported revenue of almost $2 billion in 2008, has approximately 8,500 employees serving customers in more than 150 countries, and is a component of the S&P 500 Index. Additional information is available through www.perkinelmer.com or 1-877-PKI-NYSE.

More from Material Processing