Liquatite® Antimicrobial Food Grade Conduit Wins Award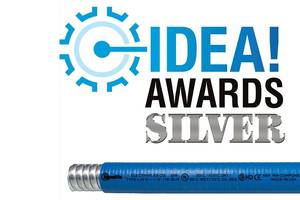 Electri-Flex Company, Roselle, IL, is the recipient of the Silver Award in the 2021 IDEA! Awards contest for its Antimicrobial Food Grade Type LAFG Flexible Conduit. The award is presented by Machine Design and Hydraulics & Pneumatics, which includes six categories with the category winners garnering the highest votes for most outstanding product innovations for 2021. Electri-Flex' Type LAFG is the winner in the Machines and Components category.
"The IDEA! Awards were created to showcase outstanding product development," said Bob Vavra, senior content director for Machine Design and Hydraulics & Pneumatics. "Because these awards are selected by our readers, they reflect the value our audience places on always striving for better operational efficiency, safety and quality. We congratulate this year's IDEA! Award winners for matching that standard of excellence."
Type LAFG was recently launched with a new and improved PVC jacketing, offering a new food processing blue color, even wider temperature range, and with a new antimicrobial Food Grade jacketing. The antimicrobial jacketing additive inhibits the growth of commonly known food processing microbes, such as E. coli, listeria, and salmonella, and even shows a reduction of these microbes over a 24-hour period. Type LAFG is a Certified Components for NSF/ANSI 169 special purpose food equipment, meets FDA CFR21 and NSF 51/61 requirements, offers a smooth exterior for easy washdown, and is resistant to sodium hypochlorite (bleach). Liquatite® Food Grade electrical conduits provide a flexible, liquid-tight protective wiring raceway, ideally suited for Food Processing, Pharmaceutical, and Bottling Equipment installations.
To learn more about Food Processing Liquatite® conduits, visit www.electriflex.com/flexible-conduits/foodgrade-flexible-liquatite-products/. Or email mktg@electriflex.com and request more information today.
Electri-Flex Company, a leader in electrical conduit design and manufacture for over 65 years, produces Liquatite®, the most diverse line of liquid-tight flexible electrical conduit in the industry. The company offers custom design, engineering, quality assurance and testing capabilities. For more information on Electri-Flex Company, call (630) 529-2920 or (800) 323-6174; fax: (630) 529-0482; e-mail: mktg@electriflex.com; visit: www.electriflex.com; or write: 222 West Central Avenue, Roselle, IL, 60172-1994.
Contact:
Janelle Blazejewski
Marketing Manager
+1-630-529-2920
mktg@electriflex.com