Lippert Cracks Open the Entry Door Market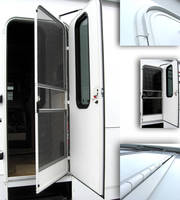 GOSHEN, IN, March 9, 2009 - Focusing on new products and enhancement on current designs Lippert Components, Inc. is now producing entry doors for the recreational vehicle (RV) industry.

Lippert Components, Inc., Goshen, Indiana, a major supplier to the nation's RV manufacturers, released the new door concept at the 46th Annual National RV Trade Show in December of 2008. They began producing the doors in November 2008 at a gradual pace in order to maintain quality along with the growth they anticipated, said Brian Donat, director of product design. "The new entry door offers many new features and quality improvements that make our product unique," Donat added.

Andy Murray, product development at Lippert, said the new design is pre-cambered through a unique process that contributes to weight reduction. "We want to assist manufacturers and dealers with improvements and enhanced value so that they have even more to offer consumers during the current market slowdown. Modifying our products in response to what consumers need, and then making consumers aware of the changes, will accomplish that," Murray added. Donat said the new entry door design is just the first in a series of doors they plan to release. "The designs that are currently being engineered are the result of direct research through many manufacturers and dealers over the past months. This is only the beginning of our presence in the entry door market," he added.

Established in 1956, Lippert Components, Inc., is a manufacturer of steel chassis, slideouts, axles and a wide variety of other components for the RV and manufactured housing industries. A subsidiary of Drew Industries (NYSE:DW), White Plains, New York, the company has grown to become a leading supplier to many of the most successful RV and manufactured housing producers in the United States.

Additional information can be found at www.lippertcomponents.com and www.drewindustries.com.

More from Waste Management & Waste Handling Equipment