Linear-Type Stepper Motor has one-piece captive shaft.
Press Release Summary: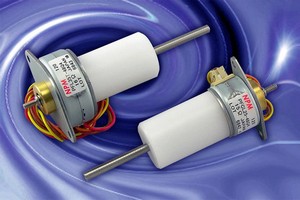 Feauring anti-rotation cap that allows shaft to actuate without external guide mechanism, RoHS compliant Captive LINEARSTEP Series Stepper Motor produces linear motion with outside dimensions of 25 and 35 mm, and 30 mm stroke. Shaft travel in resolutions from 0.010-0.05 mm per step can yield up to 5 kg of force. Unit includes ball bearing shaft supports, welded motor case, thread spec, and Neodymium magnet rotor.
---
Original Press Release:

Captive LINEARSTEP Series: Linear-Type Stepper Motor for Applications Where External Anti-rotation Methods Are Difficult or Impossible to Employ



Nippon Pulse America, Inc., Radford, VA _ (August 2, 2006) Nippon Pulse America introduces the Captive LINEARSTEP Series: Linear-Type Stepper Motor, a RoHS compliant, linear-type stepper motor with a one-piece captive shaft. The guideless, linear shaft movement gives designers a simple linear stepper system at a fraction of the price of a conventional rotary stepper system that must be adapted for linear motion. The anti-rotation cap allows the shaft to actuate without an external guide mechanism that is required with non-captive type linear stepper motors.

The Captive LINEARSTEP produces linear motion in a rotary size package with outside dimensions of 25mm and 35mm, and a 30 mm stroke. Custom stroke lengths are available. Shaft travel in resolutions from 0.010 mm to 0.05 mm per step can yield up to 5 Kg of force. The same drive circuit used for NPM tin-can type steppers can drive the Captive LINEARSTEP.

The Captive LINEARSTEP has ball bearing shaft supports and a welded motor case that ensure long life and durability. The one-piece shaft could eliminate some misalignment issues caused by two-piece shafts.

A special type of thread spec and an enhanced Neodymium magnet rotor enable the Captive LINEARSTEP to deliver high thread efficiency and a large driving force (up to 5 Kg.) The simple design and metric dimensions qualify the actuators for a worldwide market.

High strength magnets in the motors deliver exceptional force based on a design that reduces costs without compromising performance. These new linear actuators give OEMs an opportunity to reduce device components and simplify design. Designers can replace rotary systems that generate complicated linear movement through belts and pulleys or rack and pinions. This can result in smaller space requirements and ultimately lower system costs

These budget priced captive linear actuators are for low or high volume production. Applications for the Captive LINEARSTEP include laboratory instrumentation, medical pump and syringe devices, small machinery, optical camera systems, and antenna communication devices and other automated devices that require precise remote controlled linear movements in a very small package size.

The 100-piece price of Captive LINEARSTEP is $29 in 25mm and $33 in 35mm.

Nippon Pulse America, Inc. is the wholly owned American subsidiary of Nippon Pulse Motor Co., Ltd. Nippon Pulse offers various controllers (boards and chips), drivers (boards and chips), and motors (tin-can, hybrid and linear servo) to cover almost any motion application.

Company Information:
Nippon Pulse America, Inc. (a subsidiary of Nippon Pulse Motor Co., Ltd.)
4 Corporate Drive
Radford, VA 24141
www.nipponpulse.com
[email protected]
Fax: 1-540-633-1674
Phone: 1-540-633-1677