Linear Slide Load Carrier relieves radial forces.
Press Release Summary: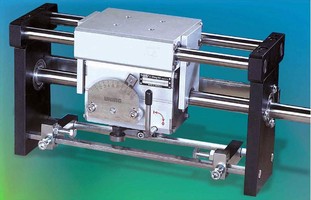 Supported on its own end supports and guide rails, flexibly-coupled linear slide load carrier removes twisting and bending forces from Uhing drive and assembly. Design assures that overturning moments and other forces created by payload do not work against axial thrust provided by drive. Slide is available in models SLS and L2 for heavy duty loads that mount on top of drive, while L4 model mounts to back of drive.
---
Original Press Release:

Load Platform Relieves Radial Forces on Linear Drive -- Increases Bearing Lifespan; Improves Performance



Aston, PA, July 2007 - To protect the "rolling ring" bearings in Uhing linear drives from undue wear resulting from radial forces, Amacoil now offers a linear bearing slide option on drive assemblies. The linear slide load carrier is recommended when the tool or other payload being moved is mounted so that it creates overturning moments which can interfere with the drive's function and place undesirable pressure on the bearings.

Supported on its own end supports and guide rails, the linear slide redirects twisting and bending forces - removing them from the Uhing drive and assembly thereby relieving stress and pressure on the bearings and other parts. This minimizes the wear on the drive bearings assuring longer lifespan. Because the linear slide guide rails are perfectly parallel with the Uhing drive shaft, smooth linear movement is enhanced while the possibility of a cantilevered or off-center load causing the drive to bind or seize is virtually eliminated.

Three styles of linear slides are available to accommodate different payload mounting methods and varying weights. The standard linear slide model SLS and also the L2 for heavy duty loads are mounted on top of the Uhing drive. A third model, the L4, mounts to the back of the Uhing drive. A load-supporting surface on the L4 slide extends above the top of the drive by only 1.0 - 2.0 mm. This is useful in situations where a slide is needed but vertical space is limited.

Amacoil linear slide load carriers are flexibly coupled to the Uhing drive unit - there is no rigid connection. This design assures that overturning moments and other forces created by the payload do not work against the axial thrust provided by the Uhing drive.

With up to 800 lbs. of axial thrust, Uhing "rolling ring" drives provide backlash-free linear motion in packaging and converting equipment, winding machines, spraying/coating systems and other automated industrial machinery. Amacoil is Uhing Company's North American distributor handling sales, service and parts for Uhing linear drives, timing belt drives and various accessory products.

For more information please contact Amacoil, Inc., PO Box 2228, Aston, PA 19014.
Tel: 610-485-8300. Toll free: 1-800-252-2645. Fax: 610-485-2357. email: amacoil@amacoil.com
Web: www.amacoil.com