Position Sensors / Detectors / Transducers
Linear Position Sensor comes with flexible mounting bracket.
Press Release Summary: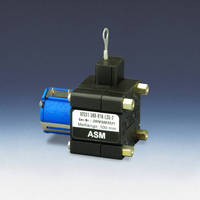 Offering measuring ranges of 10 and 20 in., WS® 31 Cable Extension Position Sensor can be installed in different orientations with included mounting brackets or threaded spacer nuts. Flexible housing design allows sensor to be rotated and mounted in 90° increments when using metal brackets. Sensor is available with analog R1K, 4-20 mA, or digital incremental encoder A/B/Z output, and has ±0.35% linearity rating on full scale measuring range. It measures 1.7 x 1.2 x 1.2 in.
---
Original Press Release:

ASM Sensors, Inc. Introduces WS® 31 Cable Extension Sensor Series with a New Mounting Bracket for Most Flexible Installation



Elmhurst, IL (February 16, 2009) - ASM Sensors is introducing its WS® 31 cable extension sensor series with a new mounting bracket that allows the easy and most flexible installation of the sensor and thus position measurement in almost every direction. The WS® 31 linear position sensor series offers measuring ranges of 10 and 20 inches and is well suited for many OEM production applications such as in medical testing equipment or in aerospace testing equipment.

The WS® 31 series operates on the proven and reliable cable extension position sensor principal which uses a highly flexible stainless steel cable that is drawn onto a cable drum. An internal spring maintains the tension in the cable and ensures that the cable is recoiled exactly as a single layer on the drum. The output signal is proportional to length of the cable that has been pulled out of the sensor by the moving object. The WS® 31 series is available with an analog R1K, 4-20mA or digital incremental encoder A/B/Z output.

This position sensor can be installed with many different orientations with the included mounting brackets or threaded spacer nuts. The flexible design of the sensor's housing allows the sensor to be rotated and mounted in 90 degree increments with the use of metal brackets.

With its compact size of 1.7" x 1.2" x 1.2", the WS® 31 series is an economical solution that can be easily integrated into existing systems whenever direct displacement measurement feedback is needed without requiring extensive mechanical changes in the end application.

The enclosure rating for the sensor housing is IP50 and has a linearity rating of ± 0.35% of the full scale measuring range. This sensor weighs less than 4 oz.

ASM Sensors, Inc. is a leading company in the development, manufacturing and marketing of linear and rotary position sensors as well as tilt sensors for use in industrial and commercial applications. With 30 years of experience in serving all sectors of industry, ASM sensors has set industry standards in position measurement by providing innovative products to help automate processes and to increase safety in the workplace.

ASM Sensors, Inc. has its global headquarters in Moosinning, Germany near Munich which is ISO 9001:2000 certified and is where both standard products and customized solutions are manufactured. ASM products are sold worldwide through subsidiaries, sales offices and a network of representatives.

For further information please contact:
Application Support: 630-832-3202
ASM Website: www.asmsensors.com
ASM Email: info@asmsensors.com

More from Explosives, Armaments, and Weaponry