Linear Motion Slides feature 303 stainless construction.
Press Release Summary: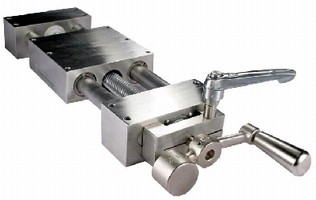 Providing linear stroke up to 136 in. and standard repeatability within ±.002 in., SEAL Slides are FDA/USDA compliant and feature FDA/USDA compliant linear bearings with PTFE self lube liners. Teflon® rotary seals prevent material from entering ball screw/journal area. Suitable for caustic washdown, slides have pass through design that minimizes debris collection areas or inclusion points. Polymatrix nut, integral with carriage, has no mechanical components.
---
Original Press Release:

LM76 Announces Its SEAL Stainless Linear Motion Slide.



ALL Major Components 303 Stainless Construction and Austenitic Stainless Fasteners.

SEAL Slides are FDA/USDA Compliant and feature FDA/USDA Compliant Linear Bearings with PTFE, Self Lube Liners. Unique Special Teflon Rotary Seals Prevent Material from Entering the Ball Screw/Journal Area. SEAL Linear Slides are Proven for Caustic Washdown and feature a Minimized Contamination Collection design. Trap Points Due to "PASS THROUGH DESIGN" minimize debris collection areas or inclusion points. SEAL Linear Slides also feature No Counter-Bore Collection Points. Screw Leads from: .062" - 2.400" or 2.5mm - 50mm Our special Special Polymatrix Nut Integral with Carriage has no mechanical components: balls, races, ect. Thus there is no mechanical failure modes.

Standard Repeatability within ± .002
Linear Stroke: up to 136"
Speeds up to 50" sec + ( average velocity )
Standard Temp Resistance to 300° F
Optional Temp Resistance to 600° F
High Vacuum Environments OK
Stainless Drive Adaption Kits include risers, motor plate and coupling for NEMA 23 or NEMA 34 or I.E.C. 50, 60, 80
Maintenance-Free Self Lubricating System ( speeds past 15" a second please call factory)
Shaft Sizes: 1/2" - 3/4" - 1"