Multi Axis Positioning Stages / Tables
Linear Dual-Axis Stages provide 1 nm resolution.
Press Release Summary: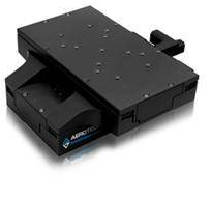 With low profile of 85 mm, Series ANT130-XY offers travels up to 160 x 160 mm with 1 nm resolution, 75 nm repeatability, and 250 nm accuracy/axis. Stages utilize crossed roller bearings and direct-drive technology, which has no hysteresis or backlash, enabling accurate motion in both X and Y dimensions. Applications include data storage, semiconductors, laser micromachining, sensor testing, material deposition, and MEMS/nanotechnology device fabrication.
---
Original Press Release:

Two Axis, Linear Motor Nanopositioner Provides 1 NM Resolution with up to 160 X 160 MM Travel



New ANT130-XY from Aerotech provides high accuracy and repeatability

A series of linear dual-axis stages offering nanometer-level performance in travels up to 160 x 160 mm has been introduced by Aerotech. The new ANT130-XY stages allow travel in two dimensions with an exceptionally low profile of 85 mm. With high resolution (1 nm), repeatability (75 nm) and accuracy (250 nm) per axis, the stages support all applications that require nanopositioning performance with extreme in-position stability and smooth motion.

The ANT130-XY stages are designed for use in a wide range of research and development and manufacturing fields. These include data storage, semiconductor, laser micromachining, medical, sensor testing, inspection, material deposition and MEMS/nanotechnology device fabrication.

The stages use Aerotech's proprietary advanced direct-drive technology as well as crossed-roller bearings to achieve the highest level of positioning performance. The direct-drive technology has no hysteresis or backlash, enabling accurate and repeatable motion in both the X and Y dimensions. All travel options (60 mm x 60 mm, 110 mm x 110 mm, 160 mm x 160 mm) come with the 85 mm profile height. The ANT130-XY design allows critical elements such as orthogonality, straightness and flatness to be optimized, resulting in a stage with exceptional geometrical tolerances. Its integrated cable management system is designed to minimize drag forces.

The new stage can be combined with other Aerotech ANT series products - such as vertical lift stages, direct drive rotaries and goniometers - to create unique high-performance multi-axis nanopositioning systems.

Aerotech (www.aerotech.com) is a leading supplier of motion control products to industry, government, science and research institutions around the world. Its precision products provide critical performance for demanding applications requiring high precision, high-throughput motion control solutions.


More from Agricultural & Farming Products