Linear Bearings utilize dry-running technology.
Press Release Summary: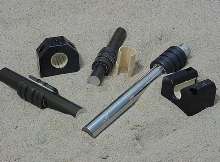 DryLin® R linear bearings are composed of self-lubricating polymer iglide® J. With channels that enable flow of dirt and dust, bearings do not need to be sealed. Flat glide pads reduce clearance between liner and shaft, and axial fastener secures bearing tighter to outside housing for added stability. Contact area is increased to 80%, improving overall load capacity. DryLin R bearings are suited for harsh, debris-infested or water-based environments.
---
Original Press Release:

igus Announces Next Generation of its DryLin R Linear Bearing


New design results in longer life, higher precision and increased load capacity

EAST PROVIDENCE, R.I. - August 14, 2003 - igus® Inc. today announced the next generation of its DryLin® R linear bearing. New DryLin R showcases a change in design of its glide pads and axial fastener, resulting in a longer lifespan, higher precision and increased load capacity. The maintenance-free, dry-running, linear technology behind DryLin R makes it an ideal substitute for traditional ball bearings, especially in harsh, debris-infested or water-based environments.

By changing the design of the glide pads from curved to flat, igus has reduced the clearance between liner and shaft by 50 percent. The contact area is increased to 80 percent, thereby improving the overall load capacity of the bearing. Users of new DryLin R will also experience higher precision between bearing and shaft.

With a lower initial clearance, new DryLin R bearings have a longer lifespan. Previously, a DryLin R bearing carrying a 25 pound load at a speed of 25 feet per minute could expect to travel 225 miles. The new enhancements now enable DryLin R to travel up to 575 miles in that same application; more than doubling life expectancy.

The new design of the axial fastener provides added stability to the bearing and secures it tighter to the outside housing. With less play, customers are reassured of the stability of the overall application. Igus sells its bearings and housing separately, providing more choices to customers and enabling them to use their own housing if desired.

DryLin R was developed for round shafts and applications with a need for speed and low noise. It is maintenance-free, simple to install and insensitive to dirt. DryLin R is composed of the self-lubricating polymer iglide® J. Because it's self-lubricating, DryLin R requires no oil or grease which can contaminate the bearing. With channels that enable the flow of dirt and dust, DryLin R bearings do not need to be sealed. Its simple design prevents debris from being lodged in the liner and causing irreparable damage, unlike recirculating ball bearings.

DryLin R bearings can reach speeds more than four times faster than recirculating ball bearings, deliver unrestricted acceleration, and are well-suited for high-frequency, short-travel applications. Even at top speeds, DryLin R bearings are extremely quiet. DryLin R linear bearings, part of igus' full line of iglide polymer bearings, are an ideal choice for use with stainless steel and aluminum shafting and they can perform in rotary, linear or oscillating motions.

About iglide
The iglide suite of polymer plain bearings offers customers the choice of more than 6,000 imperial and metric bearings from stock. Iglide polymer bearings are a convenient, cost-effective alternative to bronze, metal-backed and custom injection-molded bearings. All iglide bearings are self-lubricating and maintenance-free. The polymer-based construction eliminates corrosion and delivers better vibration dampening than metal bearings.

About igus
Igus Inc., based in East Providence, R.I., develops and manufactures industry-leading, polymer-based cable carriers, continuous-flex cables and plain and linear bearings. With more than 28,000 products, the company markets its Energy Chain Systems®, Chainflex® cables and iglide oil-free, plain polymer bearings worldwide. For more information contact igus at (888) 803-1895 or visit www.igus.com.

igus, DryLin, iglide, Energy Chain Systems and Chainflex are registered trademarks of igus Inc. All other company names and products are trademarks or registered trademarks of their respective companies.


More from Packaging Products & Equipment