Linear Actuators are available with die-cast housing.
Press Release Summary: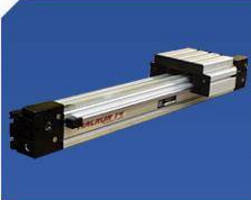 Macron 14 line of belt-driven linear actuators are offered with die-cast housing for both idler and drive end pulley assemblies. Allowing for increased load carrying capability in vertical orientation applications, design allows for addition of 2 radial bearings on idler assembly and 1 additional bearing on drive end. Actuators support motion up to 400 ips and are also available in lengths up to 250 ft, and run cooler and quieter with modified design.
---
Original Press Release:

Macron 14 Linear Actuator Design Enhancement Option



Macron Dynamics, Inc. has further improved our Macron 14 line of belt driven linear actuators with a design enhancement that provides increased load carrying capability, especially in vertical orientation applications.

The increased load capability is achieved with the introduction of a diecast housing for both idler and drive end pulley assemblies. The diecast design allows for the addition of two radial bearings on the idler assembly and one additional bearing on the drive end. A newly modified pulley design adapts to the added bearings and results in an overall lighter actuator unit.

Introduction of the die-cast design improves the thermal conductivity and dampening characteristics of the pulley assembly which provides cooler and quieter operation. All other aspects of the time-proven Macron 14 linear actuator design remain the same. Design requires less raw material usage and supports Macron's "Green Initiative" to have all Macron products 100% recyclable.

The newly introduced die-cast style assemblies will be available as an option on the Macron 14 and Macron 14H actuator products for 2009. The new design will replace the present machined pulley assemblies in 2010.

MACRON 14 LINEAR ACTUATOR SPECIFICATIONS:

ACTUATOR FEATURES

o For heavy loads and high speed motion to 400 in/sec

o Available in any length up to 76.2 meters (250 ft.)

o Fast turn-around on all standard actuator units

o Corrosion resistant components

ACTUATOR OPTIONS

o 50mm wide belt

o Rotated, wrap-around, extended and extra carts

o Sensors

o Gearboxes

o Stainless steel components

For additional information, please contact your Macron authorized distributor or Macron sales direct at: www.macrondynamics.com, email macron@macrondynamics.com

More from Electronic Components & Devices