Linear Actuator has coreless motor and thrust rod.
Press Release Summary: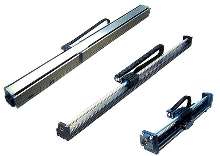 Type RDM Model M Linear Motor Actuator virtually eliminates attracting force associated with core motors. Thrust rod consists of magnets encapsulated in stainless steel tube. Movable carriage encases coils. If shaft center is offset, almost no effect is made on thrust. Extruded-aluminum base has single, Type SHW shaft.
---
Original Press Release:
THK Introduces Type RDM Coreless Linear Motor Actuator with Thrust Rod

Schaumburg, IL (September 16, 2002) THK's new Type RDM Linear Motor Actuator is coreless and features a thrust rod for enhanced performance. The use of a coreless motor virtually eliminates the attracting force associated with core motors. A coreless motor also allows for a compact design and reduces low-speed ripple.

The Type RDM's thrust rod consists of magnets encapsulated in a stainless tube. The coils are encased in a movable carriage. Even when the shaft center is offset, it has almost no effect on the thrust. What's more, the Type RDM fully utilizes each coil.

The lightweight Type RDM features an extruded aluminum base with a small cross-sectional area and a single Type SHW shaft. It allows a long stroke.

In addition to the Type RDM (Model M), two other versions of coreless linear motor actuators are available from THK. The Type SKR (Model K) is a compact, high-precision actuator. It offers the benetfits of THK's Caged Technology, including increased speed and accuracy of motion, decreased noise levels, long-term, maintenance-free operation and reduced sources of contamination. Finally, THK offers the Type SKR (Model P) Actuator with a highly rigid frame. This actuator's square-shaped cross-section can be used as a beam. The Model P ensures minimal speed ripple during low-speed operation. It also allows for a long stroke.

To learn more, visit their Web site at: www.thk.com, or contact THK America, Inc. 200 E. Commerce Dr. Schaumburg, IL 60173, Phone (800) 763-5459, (847) 310-1111, Fax (847) 310-1182, e-mail: chicago@thk.com.