Lincoln Electric Announces New, Simpler Upgrade Program for Virtual Reality Welding System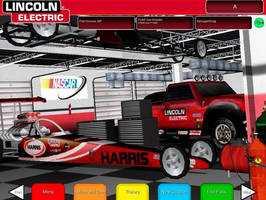 The VRTEX® 360 Extensions(TM) upgrade program now includes flexible and easy options for customers to take advantage of new features and functionality

Cleveland - Lincoln Electric has simplified and improved the VRTEX® upgrade program for the VRTEX® 360, a software-based weld training system that immerses the student in a virtual reality environment complete with sight, sound, and tactile sensations. The program changes include a simplified naming strategy, an easier ordering and sales process and a broadened eligibility for choosing upgrade options. These program modifications started on April 2 and are the latest in a series of improvements designed to better align the program with customers' needs.

"As our offering expanded, Lincoln Electric has moved to a more flexible approach," said Deanna Postlethwaite, Marketing Manager of Lincoln Electric Automation. "Customers have told us they want flexibility, choice, and simplicity when it comes to purchasing the VRTEX® 360 and the software upgrade releases. Our new programs provide offerings with flexibility for the customer to choose only what they want, when they want it. It also provides the customer better visibility of the contents, functionality, and user interface included with each release."

"By simplifying the program, we can quickly and easily provide new functions like the virtual bend test and expanded scope such as THEORY function additions to enhance training systems for welding instructors and students around the world. This year will include amazing new releases and exciting functionality. By implementing the changes to the program now, we can better serve customers in the future."

Independent, or a la carte upgrade releases enable users to purchase VRTEX® 360 upgrade features based on their specific needs. Each upgrade contains a bundle of features that the customer can review and evaluate prior to purchasing. Users have the option to purchase or skip the upgrade if it does not fit into their welding training program.

The VRTEX® 360 Extensions(TM) upgrade program starts with the following offering (release updates and additional information will be posted on www.VRTEX360.com):

VRTEX® 360 Upgrade 1:

o THEORY Function - explains and defines elements within the virtual environment

o AWS E6013 Stick Electrode

o Process pipe manufacturing virtual welding environment

VRTEX® 360 Upgrade 2:

o AWS virtual bend test for multi-pass pipe and groove welds and a virtual bend test certificate upon successful completion

o Advanced scoring modules based on the American Welding Society D1.1 or ASME

o Motorsports garage virtual welding environment

o Instructor panning view function

The VRTEX® 360 upgrade program is produced under the continued development partnership of Lincoln Electric and VRSim. VRSim Inc. of East Hartford, Conn., is a leader in the development of training software and graphic simulation for industry and academia. The VRTEX® 360 is a software-based welding training system powered by the software expertise of the VRSim team and the welding innovation of the Lincoln Electric team.

VRTEX® 360 Extensions(TM) upgrade packages are sent directly to customers who purchase the program with supporting literature, materials and curriculum components useful in any welding training environment. For more information on the VRTEX® 360, please visit www.lincolnelectric.com/vrtex360 or contact The Lincoln Electric Company - Automation Division at 22221 St. Clair Avenue, Cleveland, OH 44117-2522, via phone at (888) 935-3878 or e-mail at vrtex@lincolnelectric.com.

The VRTEX® 360 ignited a revolution in welding training with the initial release of the product presented at the Essen Fair in Germany in September 2009 and the official U.S. product launch at FABTECH in November 2009. Lincoln Electric continues to lead the industry in the innovation of virtual reality welding training through the VRTEX® programs. Lincoln Electric also continues to spearhead programs and products dedicated to the improvement of resources and materials for the training of effective, productive and quality welders.

The Lincoln Electric Company, headquartered in Cleveland, Ohio, is the world leader in the design, development and manufacture of arc welding products, robotic arc welding systems, weld fume control systems and plasma and oxyfuel cutting equipment and has a leading global position in the brazing and soldering alloys market.


More from Electrical Equipment & Systems