Lincoln Electric Adds Two New Models to Its Viking(TM) Auto-Darkening Welding Helmets Line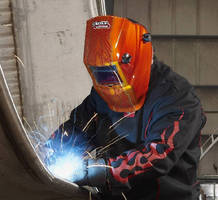 The 700G Series and 750S Series Helmets Offer Enhanced Features and New Graphic Options

Viking(TM) 700G Series SlowRider(TM)

Cleveland - Lincoln Electric has added a second series to its popular line of Viking(TM) auto-darkening welding helmets. The existing 700G Series and new 750S Series helmets are solar powered, light weight and fully loaded with a variety of features and accessories. Both series are built to handle the most demanding work environments. In addition, Viking helmets are designed for applications in almost any industry, including metal fabrication, maintenance and repair, auto body work, farm and small shop.

The 700G Series features a new SlowRider(TM) graphic design, as well as the standard black and Tribal(TM) models. These helmets also feature a DINS-sized 4.33 x 3.54 inches (90 x 110 mm) cartridge with external nine to 13 shade control. The 700G Series also features magnifying cheater lens capability, variable sensitivity and variable delay, which allows the user to adjust the time required to bring the helmet back from darkened view to the light state.

Lincoln Electric's 700G Series has a U.S. standard, 4.5 x 5.25 inches (114 x 133 mm) cartridge and outside cover lens. Its internal shade variable control has adjustable sensitivity for a variety welding environments. Helmet versions include standard black, the new Cruzin Sticks(TM) graphic design and RedRod(TM).

These helmets are lighter in weight than many auto-darkening helmets. The 700G Series weighs in at 18 oz. and the 750S Series at 19 oz. Both use a solar power system, making it unnecessary to remember to switch a power control on or off or replace batteries.

Both Viking Series also feature:

o Robust headgear with a soft, absorbent sweatband

o A grind mode for weld prep and post-weld clean up

o Solar-powered systems with battery assistance on and off capabilities

o A free welding helmet bag and Tribal pattern bandana

o Fast lens switching speeds of 1/25,000 sec

o Low TIG amp ratings of DC < 3 amp; AC < 5 amp

Lincoln Electric's Viking auto-darkening helmets are available at local welding distributors. Or visit www.lincolnelectric.com to obtain Bulletin E12.207 to learn more.

The Lincoln Electric Company, headquartered in Cleveland, Ohio, is the world leader in the design, development and manufacture of arc welding products, robotic arc welding systems, fume extraction equipment and plasma and oxyfuel cutting equipment. The company holds a leading global position in the brazing and soldering alloys market.


More from Material Processing