Limit Controllers utilize optional output cards.
Press Release Summary: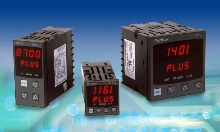 Plus Series 1/16, 1/8, and ¼ DIN Controllers shut down process if parameters exceed preset limits. To prevent safety hazards and equipment damage in oven/furnace, plastics, and packaging industries, they have latching relay that cannot be reset until process is in safe condition. Units offer auto-detection of hardware modules, front panel HMI with dual display, and PC configuration software. A 10 V SSR drive output enables user to drive up to 3 SSR/SCR outputs.
---
Original Press Release:

Danaher Industrial Controls Extends its '+' Series Platform Technology to Include Limit Controllers


Chicago, January 24, 2005 -The '+' family of controllers is expanding again, this time to include limit control. Danaher Industrial Controls Group (DICG) announces the '+' (Plus) Series limit controllers for its well-known Partlow and West brand controller product lines. Built on the company's next-generation platform, the new 1/16, 1/8 and 1/4 DIN limit controllers take flexibility and ease-of-use to new levels.

Limit controllers shut down a process if process parameters exceed preset safe-condition limits. Used to prevent safety hazards and equipment damage in the oven/furnace, plastics and packaging industries, limit controllers possess a latching relay that cannot be reset until the process is in a safe condition.

The new Partlow and West brands '+' Series(TM) limit controllers offer several advantages over their predecessors, including plug-and-play output cards, faster communication speeds, an improved, easy-to-use front panel HMI (Human Machine Interface) and an improved PC configuration software.

Just as important, users will benefit from consistent operation and design across the '+' Series family. This reduces training requirements as operators become familiar with the common styling and operating procedure consistent for all '+' Series controllers. Also, when the controllers are installed together, they will produce a compatible, efficient working environment.

Fast, Easy Installation
A simple keypad on the face of each controller provides for fast, easy setup and program changes. Alternatively, the operator may use an intuitive Windows®-based configuration software that steps the user through the setup process. An optional user-selectable communications port is dedicated to this purpose (RS-485, Modbus®, ASCII protocols) and provides faster RS-484 communication than previous models.

The new limit controllers also provide backward compatibility and simple drop-in replacement for older models, because of their universal panel cutout, housing and terminal wiring. This ensures that no time is wasted changing wiring diagrams.

Easy to Use
Compared to DICG's earlier models, the overall HMI (Human Machine Interface) has been improved: it now has a dual display having larger digits that are easy to read. Another benefit of the '+' Series platform is a fully customizable operator menu. Using the convenient PC configurator, the 'operator menu' can quickly and effortlessly be tailored to the application - displaying only the amount of information needed - thereby preventing operator "information overload."

Flexible and Versatile
Users may customize DICG's new limit controllers for a variety of applications using optional plug-in modules for outputs, inputs, alarms, and communications. This will appeal to companies that, until now, have had to stock a wide range of limit controllers. With the '+' Series, companies keep only one type of limit controller in stock and adapt it for each application as required. The user pays only for the options needed.

A new feature is a 10V SSR drive output that enables the user to drive up to three typical SSR/SCR outputs for enhanced application flexibility. Another new option is a transmitter power supply. The full list of interchangeable boards includes: relay output, SSR driver output, Triac output, linear mA/VDC output, 24VDC transmitter power supply, RS-485 communication, and digital input.

Lower Installed Cost
When used in conjunction with optional output cards, the new "+" Series limit controllers provide fail-safe limit control at a lower installed cost than comparable competitive limit controllers. Some suppliers require the user to stock different controllers for each type of input (thermocouple, RTD, DC linear.) By comparison, the '+' Series accepts universal inputs, minimizing stocking requirements. Also unusual in a limit controller, the '+' Series provide for the auto-detection of hardware modules, and require no link jumpers. These combined features alone are estimated to reduce setup time and decreases the risk of setup mistakes by as much as 50 percent.

The auto-detection feature is particularly helpful to systems integrators and distributors who do lots of controller setups, and to end-users upgrading in the field. Because the controllers automatically configure themselves as soon as output cards are fitted, users save valuable engineering time.

Approvals
Usually, limit controllers serve a safety function, and they often work independently of the normal process controller. To assure reliable operation, the '+' Series has approvals for safety critical applications, including FM, UL, CE, and cUR approvals.

Smaller Size
The'+' controllers are DICG's response to a trend toward more value and functionality in a smaller package, without increasing cost. The 1/16 DIN version measures only 48mm x 48mm and contains features that many other competitive limit controllers lack. This was accomplished by basing the design on opto-ASIC electronics that enable more features in less space.

Price and Availability
The West brand and Partlow brand '+' Series limit controllers are available from stock. Base model prices are provided below; optional output functions and display color configurations are also available. Options range in price from $15 to $64.

Partlow Model 1161+(TM) (1/16 DIN) $225
Partlow Model 1801+(TM) (1/8 DIN) $356
Partlow Model 1401+(TM) (1/4 DIN) $372

West Model 6700+(TM) (1/16 DIN) $225
West Model 6700+(TM) (1/8 DIN) $356
West Model 4700+(TM) (1/4 DIN) $368

About Danaher Industrial Controls
Danaher Industrial Controls Group, a division of Danaher Corporation (NYSE:DHR), designs, manufacturers and markets a wide variety of controllers, recorders, encoders, counters, motion controls and timing products worldwide under the recognized global brands of Dynapar(TM), NorthStar(TM), and Hengstler(TM) brand encoders, Harowe(TM) brand resolvers, Veeder-Root(TM) brand counters, Partlow(TM) controllers and recorders, West(TM) controllers, and Eagle Signal(TM) brand timers. For more information contact your nearest DICG distributor or DICG headquarters at 1675 Delany Road, Gurnee, IL 60031. Phone: +1-800-873-8731 or +1.847.662.2666; FAX: +1.847.662.6633. Website: www.dancon.com. Related links: www.westinstruments.com and www.partlow.com.