Lightning Protection Products target remote radio head systems.
Press Release Summary: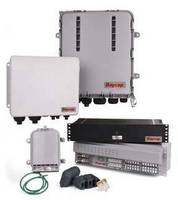 Part of Remote Radio Head Product Suite, IS Product Series protects mobile networks using distributed base station or RRH architectures against damage from lightning strikes, and provides fiber optic and cable management solutions for these networks. Strikesorb® 30-V1-HV Surge Protective Devices are capable of withstanding multiple direct lightning strikes and operating safely in 48 Vdc systems, diverting current to ground and away from sensitive equipment on tower and/or base station.
---
Original Press Release:

Raycap Announces New Lightning Protection Products for Remote Radio Head Systems



BARCELONA, Spain, -- The new "IS Product Series" features Strikesorb(R) SPDs to protect baseband equipment at wireless facilities.

Mobile World Congress 2012 -- Raycap, a global manufacturer of electrical protection solutions today announced additions to its Remote Radio Head (RRH) Product Suite. The RRH Product Suite is engineered to protect mobile networks using Distributed Base Station (DBS) or Remote Radio Head (RRH) architectures against damage from lightning strikes, and to provide fiber optic and cable management solutions for these networks. The newly announced "IS Product Series" protects the baseband units in a Distributed Base Station configuration and features the company's innovative Strikesorb(R) Surge Protective Devices (SPDs) as its key protective element.

Mobile data traffic is expected to grow exponentially over the next few years, and mobile operators are implementing new solutions to manage the growing demand for data while also lowering operational expenditures. The RRH architecture supports the explosive growth in legacy 3G networks and facilitates the deployment of next generation 4G / LTE mobile networks. Raycap's RRH protection equipment is designed to save operating and installation costs by reducing downtime for all carriers that are deploying RRH systems at radio base stations worldwide.

The key technology in the RRH Product Suite, the Strikesorb 30-V1-HV SPD, has been engineered and tested for use specifically in DC power supply applications. Raycap's DC-based Strikesorb 30-V1-HV is the only Class I SPD capable of withstanding multiple direct lightning strikes and operating safely in 48V DC systems, diverting the current to ground and away from sensitive equipment on the tower and/or in the base station.

Features and benefits of Raycap's Strikesorb-based RRH Product Suite:

- Innovative, lightweight and aerodynamic designs that combine electrical protection with power and fiber optic cable management for outdoor installation on roof or tower tops

- Unique systems designed to protect sensitive base station equipment inside the shelters

- Maintenance free operation in harsh service and environmental conditions

- Certified for use in DC applications and at low DC operating voltages (48V) and capable of withstanding multiple direct lightning strikes and electrical surges

- Flexible designs provide configurable cable ports to accommodate varying diameters of hybrid (combined power and fiber optic) bundled or discrete cables

- Fully recognized to the UL 1449 3rd Edition Safety Standard

- Certified for compliance to the requirements of Class I SPDs according to IEC 61643-1 standard

"The addition of the IS Series baseband protection products to our RRH Product Suite enables the protection of the entire distributed base station architecture, from the radios at the tops of towers to the equipment inside the shelters," said Dan Sullivan, VP of Engineering for Raycap. "Remote Radio Head systems are key to the development of the next generation wireless networks and protection from lightning strikes is critically important to the successful deployment of these networks."

With RRH architecture, DC power cables travel from the base station to the top of the cell tower to power the remote radio units. The conductive copper wires are a conduit for lightning currents, making the active equipment at both the top and the bottom of the site susceptible to damage. Lightning is one of the main concerns most network operators have when it comes to installing radio equipment at exposed locations.

Raycap's RRH Product Suite includes a large number of customizable water tight enclosures for installation at the top and bottom of the tower, as well as distribution/protection enclosures specially built for installation in shelters or cabinets. Raycap's systems make managing and installing the long runs of power and fiber optic cables easier, and ensure the availability and reliability of the radio and baseband equipment they are connected to.

Raycap is the global leader in the protection and interconnection of RRH sites, with more than 60,000 sites operating using Raycap solutions.

About Raycap

Raycap is a global manufacturer and supplier of diversified products and services for the telecommunications, defense, energy and other industrial markets. The company's electrical protection solutions include its Strikesorb(R), Rayvoss(R), and ACData(R) product lines. Raycap was founded in 1987 and has operations in Europe and North America. For more information find us at www.raycapsurgeprotection.com