Lightning and Surge Protectors offer 12 or 24 ports.
Press Release Summary: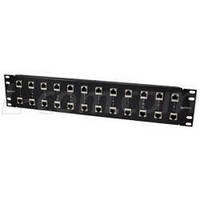 Featuring rackmount design, RMSP Series spans variety of types, including Cat 5, Cat 6, and DSL/Telephone/T1 models, each providing lightning and surge protection to help prevent damage to network equipment. Constructed from 1/16 in. thick cold rolled steel with flat black powder coating, 2U 12-port models can be used with PR-CMB Cable Management Bracket Kit. Completely self-contained in 1U enclosure, 24-port Model RMSP-CAT5-24 features built-in rear cable management rail.
---
Original Press Release:

L-com Releases 12 and 24 Port Rack Mount Lightning and Surge Protectors



NORTH ANDOVER, MA — L-com, Inc., a designer and manufacturer of wired and wireless connectivity products, announced today that it has expanded its line of rack mount lightning and surge protectors to include 12-port and 24-port models, in addition to its 4-port models. L-com's RMSP series rack mount protectors span a variety of types including Cat 5, Cat 6, and DSL/ Telephone/T1 models. Each unit provides superior lightning and surge protection to help prevent damage to expensive network equipment.



"Many of our customers inquired about providing multiple line protection. The 12 and 24 port protectors allow them to maintain flexibility and integrate protection into their existing racks," said Ken Burgner, Product Manager. 



The new 2U 12-port protectors are constructed from 1/16" thick cold rolled steel and are flat black powder coated. These models can be used with L-com's PR-CMB Cable Management Bracket Kit. The new RMSP-CAT5-24 is a completely self contained 24-port protector in a 1U rack mount enclosure. It features a built-in rear cable management rail.



New Product Details:



The RMSP-CAT5S-12 provides protection for up to 12 Cat 5 data lines.

The RMSP-CAT5-24 provides protection for up to 24 eight Cat 5 data lines.

The RMSP-CAT6-12 Surge Protector provides surge protection for up to 12 Ethernet lines using 10/100/1000 data rates.

The RMSP-CAT6T-12 lightning and surge protector provides superior lightning and surge protection for up to 12 lines with improved frequency response for indoor 10/100/1000 Ethernet networks.

The RMSP-DT-12 is a high performance 3-stage lightning protector that provides superior protection for up to 12 DSL, Telephone and T1 lines from transients and surges. It is designed to convert into a failsafe mode in the rare case of a catastrophic surge or lightning event.



For more information about this release, please contact:

Peter McNeil

Product Marketing Manager

978-682-6936 x1450

pmcneil@l-com.com



L-com, a global designer and manufacturer of wired and wireless connectivity products, offers a wide range of solutions and unmatched customer service for the audio/video, OEM, military/aerospace, IT, and wireless RF industries. The company's product portfolio includes cable assemblies, connectors, adapters, computer networking components, and custom products, as well as the HyperLink line of wireless antennas, amplifiers, filters/splitters, lightning protectors, weatherproof enclosures, and much more. Trusted for more than 30 years, L-com, Inc. is headquartered in North Andover, Massachusetts, USA, and is ISO 9001: 2008-certified. For more information, please visit:  htt p://www.L-com.com/



Friendly & Knowledgeable Service - In Stock Availability & Same Day Shipping - 100% Satisfaction Guaranteed

Connect with L-com:   Twitter   Facebook   YouTube   Google +