Lightning and Surge Protector targets Ethernet applications.
Press Release Summary: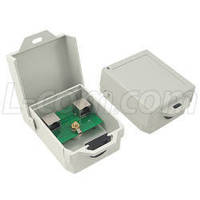 Addressing 10/100/1000/10000 Base-T Ethernet applications, Model AL-CAT6AJW is designed for use with Cat6a Ethernet cabling, but can also be used with Cat5, Cat5e, and Cat6 cabling. Device utilizes thyristor diode technology and provides protection for both common and differential mode surges. Supplied in weather-resistant housing, unit is compatible with 802.3af PoE devices and supports PoE mode A and B for power as well as normal and reverse polarity PoE used in some Cisco access points.
---
Original Press Release:

L-com Introduces Cat6a Lightning and Surge Protector for 10/100/1000/10000 Ethernet Applications



NORTH ANDOVER, Mass. – L-com Global Connectivity, a preferred manufacturer of wired and wireless connectivity products, announced today that it has developed a new Category 6a lightning and surge protector to address quad-speed Ethernet applications.



The AL-CAT6AJW lightning and surge protector provides superior lightning and surge protection with improved frequency response for 10/100/1000/10000 Base-T Ethernet networks. It is designed for use with Cat6a Ethernet cabling, but can also be used with Cat5, Cat5e, and Cat6 cabling.



The use of ultra-low capacitance semiconductors provides superior high-frequency response and improved return loss for the four data pairs. The unit has low line-to-line and line-to-ground capacitance to minimize distortion of high-speed signals. The design provides protection for both common and differential mode surges and utilizes thyristor diode technology, which offers superior power handling capability than the alternative TVS or Zener diode-based designs. Additionally, the AL-CAT6AJW provides protection for both the data and power lines in Power-over-Ethernet (PoE) applications.



The AL-CAT6AJW is compatible with 802.3af Power-over-Ethernet (PoE) devices and supports PoE mode A and B for power as well as normal and reverse polarity PoE used in some Cisco access points. Additionally, the AL-CAT6AJW is compatible with wireless access points, bridges, client adapters and network appliances with or without Power-over-Ethernet (PoE) functionality.



The compact weather-resistant housing features a lockable hinged cover, rear mounting holes and a removable cable grommet that can be adjusted according to cable size.



"The new AL-CAT6AJW was developed to address high- speed Cat6a applications where there is little tolerance for signal distortion. The weather-resistant design is perfect for use in any outdoor or indoor Ethernet application," said Ken Burgner, Product Manager.



The AL-CAT6AJW is in stock and ready to ship. Detailed product specifications and engineering drawings are available on the L-com website.



For more information about this release, please contact:

Peter McNeil

Marketing Manager

978-682-6936 x1174

pmcneil@l-com.com



About L-com Global Connectivity

L-com Global Connectivity, a preferred manufacturer of wired and wireless connectivity products, offers a wide range of solutions and unrivaled customer service for the electronics and data communications industries. The company's product portfolio includes cable assemblies, connectors, adapters, computer networking components, and custom products, as well as their HyperLink® brand of wireless products which include antennas, RF amplifiers, coaxial lightning and surge protectors, and NEMA rated enclosures. L-com's HyperLink® wireless products are designed for WiFi, WiMAX, SCADA, 802.11a/b/g/n/ac, RFID and Bluetooth applications. In addition to HyperLink®, L-com's other brands include MilesTek®, specialists in Military/Aeronautics connectivity solutions and Aiconics®, a leading manufacturer of electrical connector products.  Trusted for over 30 years, L-com, which is headquartered in North Andover, MA, is ISO 9001: 2008 certified and many of its products are UL recognized For more information, please visit:  http://www.L-com.com/.



Friendly & Knowledgeable Service -- In Stock Availability & Same Day Shipping -- 100% Satisfaction Guaranteed

Connect with L-com:   Twitter   Facebook   YouTube   Google+  LinkedIn