Lighting Fixtures facilitate LED replacement of fluorescents.
Press Release Summary: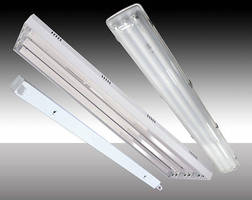 Compatible with MaxLite internal driver LED T8 replacement lamps, Lamp Ready series enables installers to avoid bypassing ballast and adopt LED technology while keeping UL-listing of product intact. New construction housing is UL-listed for LED replacements lamps that do not need a ballast. All fixtures – Vapor Tight (2- and 3-lamp), Utility Strip (1- and 2-lamp), and Linear Highbay (4-, 6-, and 8-lamp) – come pre-wired for contractor-ready installation.
---
Original Press Release:

MaxLite Launches Lamp Ready Series of Fixtures



Value-driven solution enables installers to maintain UL product listing while upgrading to LED



WEST CALDWELL, N.J. – Designed to create a complete UL-listed fixture by the most economical means, MaxLite introduces the Lamp Ready Fixture Series as a companion to its line of LED Linear T8 replacement lamps.



Lamp Ready fixtures enable installers to avoid bypassing the ballast and adopt the energy-saving benefits of LED technology while keeping the UL-listing of the product intact. The Lamp Ready series was developed in response to a strong market demand for a new construction housing that is UL-listed specifically for LED replacements lamps that do not need a ballast. The UL certification mark indicates the product has been tested to meet globally accepted standards of product safety set forth by Underwriters Laboratories, in pairing an internally driven LED lamp with a dedicated new construction housing. In addition to simplifying the upgrade process for the contractor, the fixtures offer ease of maintenance and peace of mind for the end-user, who is able to continue to re-lamp the housings with MaxLite brand LED T8 lamps with the certainty that the combined lamp and housing are still UL-listed.



MaxLite launches the Lamp Ready series with Vapor Tight, Utility Strip and Linear Highbay fixtures. Additional models will join the line-up later this year. The fixtures are compatible with MaxLite's internal driver LED T8 replacement lamps, and come pre-wired for contractor-ready installation as new or remodel fixtures.



"Contractors are often faced with fluorescent fixtures of varying ages and conditions on a job that must be either modified, or replaced, to comply to UL and building code standards," said MaxLite Indoor Product Marketing Director Pat Treadway. "We found that many MROs were avoiding the adoption of LED T8 lamps because they were uncertain whether bypassing a ballast keeps the original UL product listing intact. Our new Lamp Ready Series was designed to remove that barrier by introducing a low-cost, complete fixture solution that is an easy choice over a modified fluorescent fixture that may not be UL-listed for LED use."



Engineered to stand up to the harshest environments, the IP-65-rated Vapor Tight Lamp Ready fixture is constructed with a vapor tight housing that protects the light source against water and dirt, making it the perfect replacement for less efficient fluorescent strip lights in car wash operations, airports, tunnels, maintenance areas, parking garages and stairwells. Available in two- and three-lamp models, the fixture is designed with a transparent diffuser that supports maximum lumen output. The Lamp Ready Vapor Tight can be mounted to walls or ceilings with the provided hardware, or suspended from ceilings using a cable kit.



When combined with MaxLite brand LED T8 lamps, the Linear Highbay offers superior light output for commercial and industrial highbay and lowbay installations, assembly, warehouse, and general lighting applications. Available in four-, six- and eight-lamp versions, the fixture is constructed of the same durable steel as MaxLite's commercial- and industrial-grade BayMAX LED Linear Highbays and works with the optional doors, wire guards and lenses from that product line.



The Lamp Ready Utility Strip features a compact, low profile design perfect for task and general lighting in residential, commercial or industrial projects. Available in one- and two-lamp housings, the strips can be mounted flush or suspended. Multiple end, side and rear knockouts enable the fixtures to be wired through and mounted in rows. They also accommodate an occupancy sensor for additional energy savings.



To learn more about the Lamp Ready Series, go to: http://www.maxlite.com/products/lamp-ready-fixtures.



About MaxLite (www.maxlite.com) MaxLite has been committed to providing energy-efficient lighting products for more than 20 years. One of the first movers into LED technology in the industry, MaxLite offers an extensive line of state-of-the-art indoor and outdoor LED lamps and luminaires under the MaxLED brand. A three-time recipient of the ENERGY STAR Partner of the Year Award for its industry leadership, MaxLite continues to be at the forefront of energy-efficient technologies through the innovative research and development capabilities of its New Jersey headquarters and California office. For more information, call 800-555-5629, email info@maxlite.com, or follow us on LinkedIn, Facebook and Twitter.

More from Electrical Equipment & Systems