Light Welding Applications Bring Unique Hazards - Get Complete Protection with IR Filter Lenses from Gateway Safety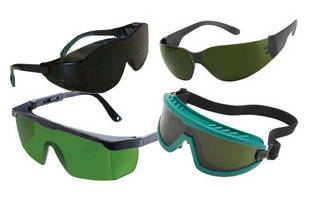 November 9, 2010 - Eye injuries account for one-quarter of all welding injuries, making them by far the most common injury for welders.* Common hazards include being struck by flying particles; radiation and photochemical burns from ultraviolet radiation, infrared radiation (IR), and intense blue light; irritation from fumes; and chemical burns. Even non-welders, such as supervisors and visitors, are at risk for accidents and injuries in these settings - often more so than even welders because they are not accustomed to welding hazards and don't take the necessary safety precautions.

To provide protection from eye hazards in light welding applications, such as cutting and brazing, workers should wear safety eyewear with IR Filter lenses. Gateway Safety offers multiple options for both light welding applications as well as those requiring traditional welding goggles. Gateway Safety's light welding safety eyewear is more stylish and comfortable than previous alternatives. Products include the NEW Cover2® IR, a contemporary style OTG solution with an IR Filter Shade 5.0. Other spectacle options offering protection in Shades 3.0 and 5.0 include the highly popular StarLite® IR and the traditional style Strobe(TM) IR. Wheelz(TM) IR also offers IR protection in a sleek, lightweight goggle form. All products also meet the ANSI Z87.1+ standard, providing peace of mind that wearers are getting all-around hazard protection. (These products are not suitable for some welding applications that require a higher level of IR protection.)

*Source: Liberty Mutual Research Institute for Safety, Occupational Health & Safety web site, "Preventing Eye Injuries When Welding."

About Gateway Safety, Inc.
Gateway Safety, Inc. designs and manufactures award-winning, cost-effective personal protection equipment. Product categories include eye, face, head, hearing, and respiratory protection. For more than 65 years, it's been Gateway Safety's mission to help employers increase safety compliance and improve the overall welfare of their employees by making safety products that workers want to wear-which, in turn, helps companies reduce the high costs associated with workplace injuries.

For more information, contact: Gateway Safety, Inc., 11111 Memphis Avenue, Cleveland, Ohio 44144. Phone: 800-822-5347. Fax: 216-889-1200. Web: www.GatewaySafety.com/PR E-mail: service@GatewaySafety.com.

More from Material Handling & Storage